Petersen in Tønder, Denmark and Schleswig-Holstein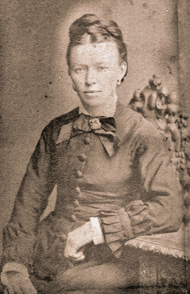 You can imagine how difficult it is to research folks whose names change every generation.
The king of Denmark thought so too — it was too hard to track ages of young men for military or tax purposes. A royal decree in the 1800s gradually changed the naming conventions in Denmark from one using patronymics to a permanent surname. So our ancestor Magretta Jensen at right, born to Paul Christian Jensen and Catharina Nissen in 1816, could have been called Paulsen instead of Jensen.
Equally confusing was the shifting ownership of the province of Schleswig. When Magretta was born in the north Schleswig town of Süd-Klixbull, that territory was technically Denmark's. After the war of 1864 between Denmark and Prussia the Danes lost Schleswig to Prussia. As a result Magretta probably grew up speaking both Danish and German, not entirely sure where her national allegiance was based. Debates continue into modern times over whether one's ancestry is Danish or German. Sometimes the best answer is: both!
But let's back up a bit. Our ancestral tailor, Peder Hansen, whom we met in Petersen part 1, was definitely born in Denmark, in the small village of Terp Bye, Øster Lindet, Haderslev. He married Barbara Sørensdatter in October 1797 in her parish of Hostrup, Ribe. She was the daughter of Søren Jørgensen of a village called Seem and his wife Inger Jensdatter. Peder's and Barbara's first son, Hans Peter Petersen, arrived just a month after the wedding.
Although the family's marriage and children's births were recorded in Hostrup, the family is listed in the 1801 census a few miles away in Peder's home village, Øster Lindet parish, Haderslev county. Only sixteen families lived in Terp Bye where Peder rented their home. Peder and Barbara's second son, Adam Lautzen Langer Petersen, was born in 1806. They had no other children according to the records.
Once their sons were grown the couple seems to have relocated to Hostrup, where Peder's death is recorded in 1828. Son Hans Peter Petersen had settled in his wife's home town of Jundewandt, nowadays Jyndevadt, Tønder, just north of the border between Denmark and Schleswig-Holstein and several day's travel from his widowed mother's residence. Hans' brother Adam worked as a farmhand in Visbek Bye, Alslev, Ribe.
The 1834 census showed Barbara living in a poorhouse in Hostrup parish as an "Almisselen", a pauper, though the poorhouse also housed people with mental illness or dementia, which could also have been her unfortunate fate. She died alone on a country road in 1842 at the age of 68. A kind gentleman brought her back to Hostrup church for burial, and that's where her death was recorded.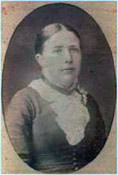 Adam was a farmhand all his life and never married. He doesn't appear in census records after 1850 and may have died shortly after that time. Adam's brother Hans married Ellen Jürgensdatter in 1822, daughter of Lorentz Jürgensen and Anna Catharina Nissen. Hans and Ellen had nine children. Their elder son was Peter Hansen Petersen, born in 1822 in Jundewandt.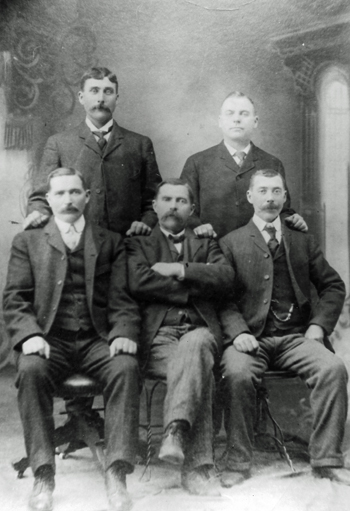 In 1844 when he was twenty-two, Peter, a glazier by trade like his own father Hans, married Elise Christina Momsen (her portrait at left dates from about 1875). Elise was from Süd-Klixbull, a village just south of the Danish border in northern province of Schleswig, which at that time was Danish territory.
Peter and Elise had eleven children, including twin sons. Five of their boys are pictured at right after their emigration to Nebraska: seated from left are twins Andrew and Louis, with older brother Alfred to their right. Brother Peter Hansen Petersen Junior is behind them at left, and brother Hans Peter Petersen, a tailor, is at right.
Peter's younger brother Lorenz Peter Petersen, born in July 1825, married Margaretha Jensen (at the top of the page) in 1848. Magretta, as she was known, was almost ten years older than Lorenz and had been engaged to a Thomas Lorenzen from 1838 to 1846, but a formal marriage never took place and the engagement was eventually nullified...not before the birth of a son, however, in 1838.
We don't know what became of that son, Paul Christian Lorenzen. But Magretta's second marriage to Lorenz produced two other sons, Hans Peter in 1850 and Christian Hansen in 1852.
Lorenz and his family of three (minus Christian Hansen, who did not appear in the 1860 Südtondern census and is presumed to have died in childhood) came to the USA in 1872 to farm in Belle Prairie, Nebraska, where other Danish immigrants had settled. See the solicitation poster "Why Come to Nebraska?" in the list at right for an explanation: in Nebraska settlers could have land for free!
Lorenz did well with the farm, which included cattle, chickens, and produce. Lorenz' success may have been one reason why brother Peter Hansen and his family joined them in November 1878. It may also have been a decision made to spare their sons compulsory conscription in the Prussian army, a common reason to leave their homeland. Or was it a long-standing betrothal between two cousins, Lorenz' son Hans and Peter's only daughter Catharina?
Within days of the Peter's and his family's arrival in the United States, Catherina and Hans were married in Belle Prairie, Nebraska. Catharina's parents probably died in Hebron between 1886 and 1890 but no record of their deaths has been found. Lorenz' wife Magretta died in 1882 and is buried in St. Johannes Cemetery in Ohiowa, near Belle Prairie. Three of Catharina's brothers (Alfred, Peter, and Louis) remained in Nebraska all their lives. Another brother, Andrew, settled in Kenosha, Wisconsin.
In Part 3 of our tale we'll follow Lorenz, his son Hans and the rest of the family to Chicago, Illinois and Wisconsin.