Jatho in Uschlag, Lippoldshausen, Karlshafen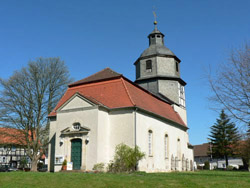 The earliest in our long line of our Jathos is Valentin Jatho, born in the 1620s and a teacher in the village of Uschlag. We don't have an exact date for his birth because church records in this region begin about forty years later, and we don't know the name of his first wife due to the cryptic nature of records from this region, but we know that she died in 1662. At right is Johannis Kirke in Uschlag.
Their children were Christoph (born in 1647), Johann Berent (1649), and Anna Gertrud (1651). Valentin married twice more and had seven children with his second wife. He died in 1700.
His son, Christoph, also became a teacher and served as schoolmaster in several local villages for forty years. He and his wife Anna Catharina Hellwig (daughter of a local miller, Hans Hellwig) had six children.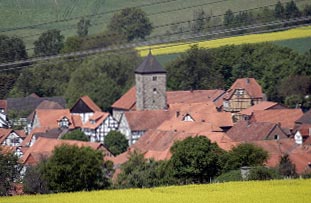 One son, Andreas Jürgen, was a teacher in the village of Lippoldshausen, shown at left. In those days the teacher was second in order of importance next to the pastor and often acted as the pastor's right-hand man. The curriculum included a little math, reading, and writing, but emphasized religious instruction. It wasn't a well-paid position. A house might be provided by the parish but the teacher also had to farm to provide for his family.
In 1699 Andreas Jürgen married Margretha Hellwig, daughter of Jürgen Hellwig and Margarethe Junge; a link to their marriage record is at right. It was an advantageous marriage; Margarethe's father was the wealthiest man in Lippoldshausen, owning 109 acres of farmland. The couple had six children.
Christoph Wilhelm, born in 1702, was their first son. He was named for his grandfather and, like his own father, became a teacher. He had two mariages prior to his 1748 marriage to Eleanora Magdalena Osterwald, recorded in the Karlshafen Lutheran parish. Their union produced four children, two born in Karlshafen and two in the distant town of Schwarzenfels, Hesse, almost 200 miles away, where Christoph Wilhelm likely had found work.
After Christoph's death the Jatho family returned to Karlshafen where their mother's Hellwig relatives lived. One son, Ulrich Wilhelm Jatho, born in 1758, was a secretary to the fire insurance commission in Kassel. He married Marie Madeleine Keppel, daughter of Georges Henri Keppel and Madeleine Cogen.
Ulrich and Madeleine had four sons, one of whom was born about 1790. Georg Heinrich Jatho was named for his maternal grandfather Georges Henri. Marie Madeleine died in 1795, only 38 years old.
Ulrich Jatho's second marriage was to Anna Martha Degen, with whom he had six more children. One of their sons, Adolph, was to play an important part in our history. To read the continuing tales of All Our Jathos, please click the Jatho in Dransfeld page.