Jatho in Dransfeld, Bremen, Kassel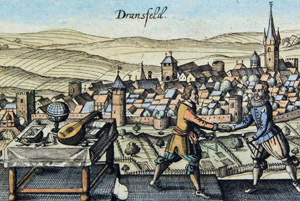 Dransfeld is a town almost in the center of modern Germany and was first mentioned in print over one thousand years ago. The illustration at right (click to enlarge) from Daniel Meisner's and Eberhard Kieser's early seventeenth-century town atlas depicts the legendary friendliness of the town.
There are other Jatho families from the region whose residence there dates back to the 1600s, and one famous aviator, Karl Jatho, was born in Dransfeld in 1873. At some point genealogical documents and/or DNA research may provide a connection to them.
In the first part of our Jatho history we mentioned one of Ulrich Jatho's surviving sons from his first marriage, Georg Heinrich Jatho, born in 1795. His expertise was as an innkeeper, and Georg Heinrich was quite renown for his management skills in Dransfeld, a town on the road between Hannoversche Münden and the old university town of Göttingen. G.H. had developed his skills in Göttingen at the 'Hotel zur Krone,' where a heavy student presence required deft management skills to house and feed the scholars. With money lent to him by villagers who were equally impressed with his knowledge of fine wines, G.H. made a success of the 'Stadt Hanover' inn in Dransfeld.
In 1821 Georg Heinrich married Henriette Catharina Habicht, daughter of Johann Rudolph Habicht of Bremen. Their daughter Marga Ida Elise's birth is recorded in 1822 at St. Martini parish, Dransfeld. Two years later in January 1824 a son, Georg Wilhelm, was born. Georg Wilhelm, or G.W. as he was known, was the first Jatho from our line to emigrate to the United States.
Georg Heinrich died in September 1827 of tuberculosis. Within a year his widow Henriette petitioned the local churches for permission to marry her late husband's half-brother Adolph.
Adolph was ten years younger than Henriette and was manager of a brewery. A special dispensation issued in 1828 (translated here by Peter Schräder) detailed the town's dilemma in deciding whether to grant the marriage. Arguments against the union pointed out that Adolph had no experience as an innkeeper and the inn's continued success was vital to the Dransfeld economy.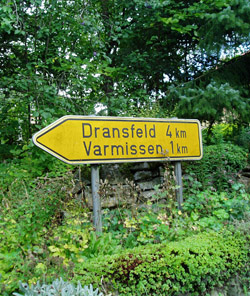 But the marriage had the blessing of Henriette's father-in-law Ulrich, who wanted his grandchildren's best interests to be considered. Adolph himself argued persuasively that he would make a better stepfather to them than a stranger might; he was, after all, their uncle too.
The marriage took place in 1828 and a son, Carl Ludwig, was born in 1830. But there were darker days ahead. Adolph was arrested, apparently for protesting for economic and political reform. The local establishment did not appreciate challenges to their policies. In early 1831 Adolph was imprisoned, at what cost to his family we can only imagine. In one legal brief, discovered by our researcher Peter Schräder, Adolph begs to be relocated to a different prison cell in Göttingen to escape the ever-present vermin.
As far as the children from Henriette Jatho's first marriage, no confirmation records for Marga Ida can be found but Georg Wilhelm was confirmed in 1838 at the age of fourteen. He followed a different profession than his father and stepfather and became a watchmaker. His last residence before emigrating in 1848 was Kassel, his grandfather's home town. Perhaps he relocated there to escape Adolph's notoriety.
G.W.'s choice of profession may have also been fueled by economic circumstances. The region around Kassel experienced economic depression throughout the 1840s culminating in a series of major riots in 1848. It's probably no coincidence that he chose that year to emigrate to the USA, where after arriving in New York he traveled to Charleston, South Carolina to set up his business.
We are indebted to Peter Schräder for significant new details and records of our Jatho ancestors in Dransfeld and Kassel. His tenacity in obtaining the original dispensation for Henriette's and Adolph's marriage helped us establish conclusively our connection to the Jathos of Kassel. We're also grateful for Regina Koppe's early research in records from the old country. Read on to part three.