December 16, 2014: School days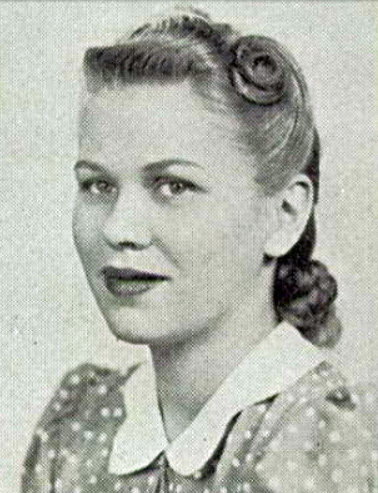 In the first half of the twentieth century it wasn't always a given that someone would graduate from high school. Some teenagers left school after eighth grade (or earlier) to look for work, the better to help their families. But in the case of Lolus Ella Bruns, she made the big time. And the bonus: here's a photo of her that we'd never otherwise have.
A senior in 1941, she attended Lake View High School in Chicago, Illinois. Her academic interests are in keeping with her later skills when I knew her. Remarkably Lake View High permitted students to specialize in an area of interest, whether general studies, science, commercial (probably something similar to business preparation), and special arts.
Lolus, we note, was a member of the school's girl's athletic association and art club, was in the honors society, and received a silver pin for some unspecified accomplishment.
Was the rest of her family shy, or are they afflicted by that perennial problems that bedevils genealogists, Not Enough Records Online? Her older brothers Bernard and George and older sister Lorraine don't appear in Ancestry.com's collection "U.S. School Yearbooks, 1880-2012." The range of this collection suggests that it might just be a matter of time.
Lake View High exists today with an impressive dedication to academics, if their website is any indication.
Show comments/Hide comments
December 6, 2014: Crisp as new kroner...and free to peruse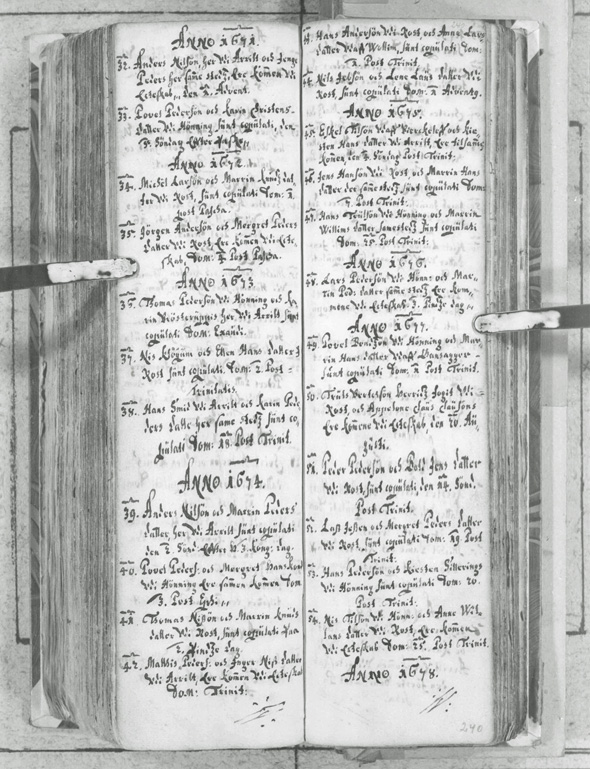 As I was saying about those Danish church books....
Click the image to enlarge. The quality is often amazing, and in this bigger image from Arkivalieronline's free genealogical archive you can see the book's binding, pages, and even the weave of the physical page. It gives us quite a three-dimensional sense of what it must have been like to touch pen to paper and add the latest record for posterity...though I doubt the clerks imagined how long their work would be visible!
This parish was Arrild in the county of Hviding in the Tønder municipality. Danish research is not always linear, so although this area was home to our Petersen line, it also includes ancestors who never bore the name Petersen.
Denmark's patronymic naming system meant that Peter Hansen Petersen -- the first of his family to used his patronym as a fixed surname -- had a father named Hans Petersen. But Hans had a father called Peter Hansen, whose own father was Hans Christiansen, the son of Christian Tÿggesen, whose father was Tÿgge Jacobsen -- and there we stop, not because there are no more steps to take backward, but because the necessary records are missing from the church books. At least it's safe to assume that his father was called Jacob.
That's always a sad circumstance for any genealogist, but when you consider how fragile pen and paper were, it's remarkable that anything has survived. We're also at the mercy of clerks whose skills varied wildly. A researcher quickly learns to appreciate any clerk whose hand was steady, who cut his quills deftly, and who mixed his inks properly to withstand time.
We can get a little further back than Tÿgge Jacobsen, who was born about 1678, by side-stepping to his wife's family. Wolburg Hansdatter married Tÿgge rather late in life in 1719 at age 41. What's helpful here is that her name is sufficiently rare (Wolburg was the Danish form of Walpurga, an old saint's name) that we can find her baptism record, and thus her parents as well. She was the daughter of Hans Smid and Karin Pedersdatter.
And miraculously Hans' and Karin's marriage was recorded in the book above, the last one of 1673 on the eighteenth Sunday after Trinity, a complicated dating system involving the Julian calendar, which was still in use. The Danish Moveable Feast days changed every year even after the Gregorian calendar was adopted, but luckily Familysearch.org has developed a handy online chart for figuring out the actual date corresponding to modern calendars.
If you have Danish ancestry, it's worth diving into these records to see what you can find. Arkivalieronline is continuing to re-film their holdings, so check back with them to see what's new online.
Show comments/Hide comments
November 28, 2014: Seeing things in a new light

Denmark is one of the most responsive countries in terms of providing online source material, and this is one example of their willingness to share.
In fact it's an example of them going overboard to make improvements to their holdings. My great-great-grandfather Peter Hansen Petersen was born on June 15, 1822 and was baptized on June 23 that same year. I had captured the image about eight years ago when their archive offered this kind of image quality, which was useful but rather low resolution.
Not having checked Arkivalieronline for some time, I didn't realize that they were slowly but surely re-filming their church books at a much higher resolution. As seen in the example above the quality difference is marked, and much appreciated. On some pages you can actually see fiber details of the paper used in those old books.
Peter Hansen, named for his grandfather of the same name, was the first-born son of Hans Peter Petersen and his wife Ellen Jürgensen, both of whom lived in Jündewandt just north of the border with Schleswig-Holstein. As the record indicates, the three godparents are Lorentz Jacobsen, Christian Sörensen, and the intriguingly-named Madame Saxesen, if I'm reading it correctly.
The apellation "Madame" wasn't unusual for Burkal Parish, apparently used for senior ladies who might have had special standing in the community. Madame Saxesen, who also stood as godparent to other infants in the parish, was most likely Adelhed Poulsdatter Callesen, whose second marriage was to a Hans Ludwig Christian Saxesen. No clue whether these people are related to the family. In many cases godparents were related. In Burkal Parish that seems to be less often the case.
It's particularly odd here if baby Peter Hansen's paternal grandfather was still living and was not one of the godparents. This might be a clue that either he was already dead by 1822 or was otherwise not available, due to illness for example, to be at the baptism.
In the naming conventions of the time it was customary to have the first son named after his paternal grandfather, and when Peter grew up he returned the favor and named his first son after his own father, Hans Peter Petersen. Peter Hansen Petersen is someone we know fairly well because he, his future wife Elise Momsen, and half of their eleven children made the great trek across the pond in 1878 to settle in Nebraska.
Show comments/Hide comments
November 6, 2014: That little old clockmaker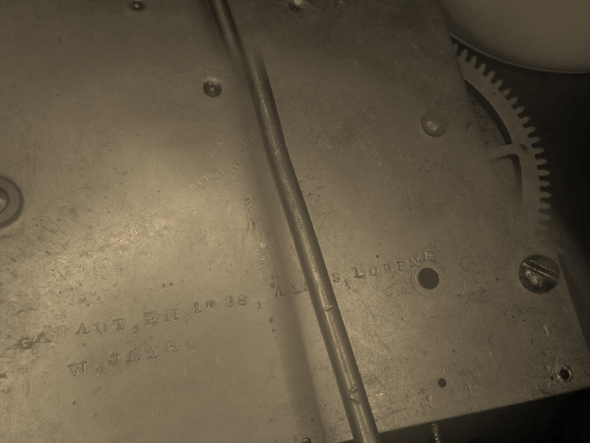 As much as I like to be helpful, this conundrum has me stumped. Click the image above to enlarge.
A clockmaker/restoration shop emailed me recently about this inscription on the inside housing of a clock they have in the shop for repair. It's an old French style mechanism with a heavy pendulum and counterweights that hang from cord attached to the roof of the clock with hooks.
While they had the works out of the case for the restoration, they noticed this inscription stamped on the metal housing: "GABAUT [Gebaut], EN, 1738, ALSAS, LORINE, W, JATHO" which translates to "Made in 1738, Alsace Lorraine, W. Jatho." The use of commas is fanciful if not decorative.
The clock shop emailed me, having found that I have a plethora of Jathos in my family line, and I do -- one in particular who was actually a watchmaker and jeweler, Georg Wilhelm Jatho. But he was born in 1824 and couldn't have been making clocks in 1738. He also came from Dransfeld in Hanover and Kassel in Hesse-Kassel.
It wasn't impossible in those days for someone to travel the almost 500km from the region where most Jathos are congregated to a region like Alsace, but it would be a rigorous journey, not to be undertaken lightly. It's entirely possible that a Jatho relocated there for a golden opportunity to make clocks. I just can't match any of my own various Wilhelm Jathos to this clockmaker.
Clock restorers often resort to books of European clockmakers' names to match a clock to its maker, but W. Jatho doesn't turn up in any of those volumes, nor is he in Google Books (a frequently useful if overlooked resource). So what about vital or church records for the region?
This curious area, shared variously throughout history by both Germany and France but
with a mainly German speaking populace, has some archives available online, such as http://www.archives-numerisees.ain.fr/. Nice, but a search for any Jatho in the Ain region results in "Il n'y a pas de réponse pour votre recherche"...no response to my search. There are some other regional archives listed on this helpful site, and that should keep me busy for awhile.
There are online church archives too but they're accessible by village name, not by surname. You'd need to know the town W. Jatho came from to try to look him up. Without that information the only option would be a kind of needle-in-a-haystack process, searching each one of hundreds of villages page by page...and you could still find nothing if he wasn't born there, married there, or died there.
I have other family surnames in Alsace so I'm familiar with the archives and church books. I'm intrigued enough to keep looking around, but the identity of Mr. Jatho in Alsace may remain unknown, despite our best efforts.
Show comments/Hide comments
October 27, 2014: Archival treasures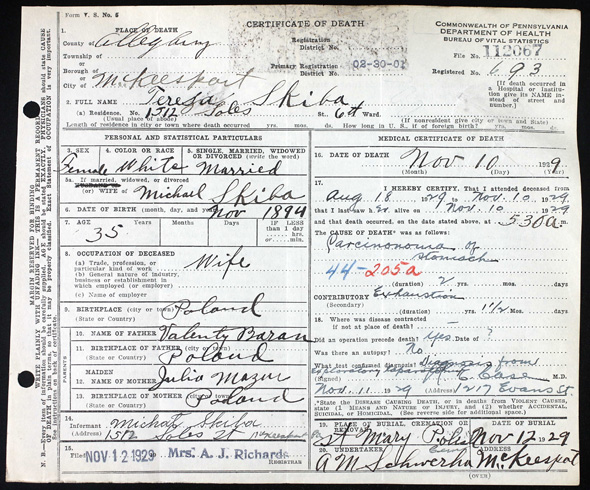 Pennsylvania has been, historically, notoriously reluctant to share its vital records, but thankfully that's changing now. In a newly-online collection called "Pennsylvania, Death Certificates, 1906-1963" I found a couple death certificates related to my late uncle Leo Skiba. The one above is for Theresa Baran Skiba, his mother, who died in 1929 when Leo was only twelve.
The document is fairly informative and appears to be notated in several different hands and by several different pens. The left-hand portion looks like it was notated using a dipped steel-nib pen with black ink from a bottle, judging by the thick-and-thin lines of the nib.
The right-hand portion, by contrast, shows the doctor's notes in fountain pen (pen strokes are nice and even) in blue-black ink, referencing the primary cause of death (carcinoma) and the secondary cause (exhaustion).
Then the bereaved widower, Michael Skiba, Leo's father, signs in a more spidery script.
It's nice to have the names of Theresa's parents. I knew she was from Rzeszów, Poland, based on her 1923 ship manifest, but it was a surprise to see that Leo (listed there as Leon) was also born in Poland. It wasn't something that my family talked about, and I suppose it's possible that Leo himself didn't know. He was only four years old when he came over with his mother and younger sister Helen.
It occurred to me that Leo may have felt as close as he did to his mother-in-law Bertha Gohr Bruns because she herself had roots in what's now Poland. Although Bertha was born in Chicago in 1886, her parents came from Kreis Bütow and Kreis Stolp in what was then Pomerania but is now Poland. Bertha's family spoke a Polish-influenced form of German. Perhaps it created a bond between them, he who had been motherless for so long.
Because Leo and his wife Lolus Bruns Skiba never had children, I've felt an urge to document what I can of his line in case someone ever shows an interest. Polish records are hard to come by and archival access is problematic at best. Records aren't online, so sources like this death certificate help us fill in a little more information about Theresa's background. Her parents' names now go into my database, ready for reference for anyone interested, whoever that may be.
Show comments/Hide comments
September 20, 2014: "If you ever plan to motor west..."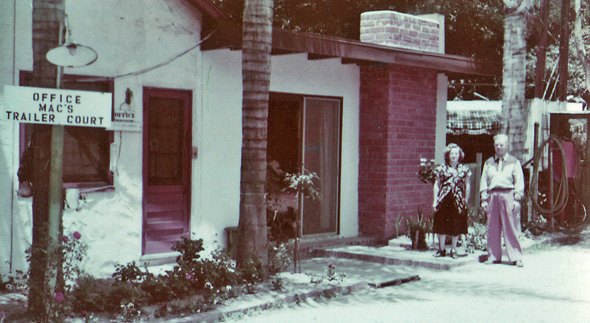 Post World War II, trailer courts sprang up like crabgrass in Southern California. Housing shortages were a reality and the construction industry couldn't work fast enough to provide new real estate projects. Some families returning to the Los Angeles area or emigrating here for the first time stayed in motels because apartment vacancies were equally hard to find.
For a man of retirement years -- for whom retirement income was inadequate -- managing a trailer court was just the thing. Often it provided free housing to managers and their families, and there was minimal back-breaking work involved. It was perfect for Alva MacLaughlan, who had been an accountant before retirement. For his wife Marie Jatho MacLaughlan it was an occupation that ran in the family. Her sister Ethel Jatho Crossey and her husband Orrie ran a trailer court in the town of Vista, near San Diego -- a nice one with room for a trailer for two, a pool and lounge area, and a small garden with room for outside seating and an awning if you wanted one.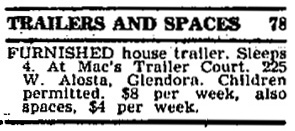 Alva's and Marie's trailer court was located on Route 66, smack dab up against the San Gabriel Mountains to the north and just east of Flappy Jack's Pancake House. You won't find it there anymore. It's now an autobody repair shop, but the address is the same.
I always thought that my grandparents ran a trailer court in Barstow, California ("...Kingman, Barstow, San Bernardino" croons the famous song "Route 66") because that's where Marie died in 1956 of a heart attack. An autopsy report was done and it made a point to mention that the MacLaughlans has been there only three weeks. So the Glendora court must have been an earlier endeavor. And I believe now that this is a picture of it.
What leads me to think so? Well, the trees are pretty lush for Barstow, which was situated in the high desert over the Cajon Pass, eighty miles east of Glendora.
There's also this directory listing from the Azusa city directory from 1954, courtesy of Ancestrylibrary.com. The name of the business on the sign in front of the office matches the entry in the directory.
And if more evidence is needed, Alva advertised pretty regularly in the Covina Argus-Citizen, the local newspaper. Ads begin in late 1952 and continue until February 1956. Marie died in mid-March 1956 in Barstow so they must have made their move to the desert in late February of that year. Alas for Marie.
I do random searches for Alva in the probably vain hope that one day he and the family will turn up in the 1940 census, to which he seems to be allergic (i.e. no trace of Alva). But this directory entry and the newspaper adverts (courtesy of the Godfrey Library's Newspaperarchive.com database) are nice enough, and bring with them new information -- always a good thing for a genealogist.
Show comments/Hide comments
August 27, 2014: Gone but not forgotten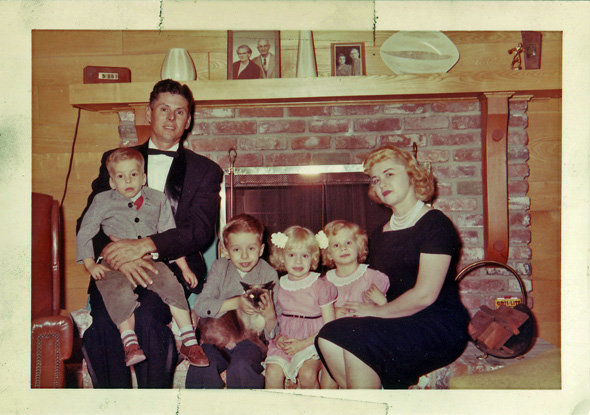 Pictured here with her family in 1959, she was my favorite aunt, though I haven't said a word to her in over twenty years. Not for lack of trying -- I simply couldn't find her...until now.
However you wanted to spell her name -- Dolores Caroline MacLaughlan (as she was when single in Chicago), Dolores Brewer (from her first marriage in California), or Carole Walkley (from her second in Texas). I was hopeful that one day I'd find her alive and willing to share what family lore she knew. Or perhaps she'd have preferred to find out the most recent genealogical discoveries, which are considerable.
At the time of this photo (which you can enlarge by clicking) you can sense the family pride. Everyone was included: Jim Brewer, who was born in Arkansas but became an insurance adjuster in Los Angeles; wife Dolores, youngest daughter of Alva Elwood MacLaughlan and his wife Marie Jatho; four kids, even Suzy the cat, who doesn't look terribly amused. And note the back shelf, where portraits of the older generation are carefully placed: Jim's parents on the left (Henry Hiram Brewer and the former Mary Mae Wisdom, both from Arkansas), and Alva and Marie on the right, Alva from Chicago, Marie from Charleston, South Carolina.
But all attempt to find Dolores or Carole after 1993 were pretty much fruitless. Directory entries for her second husband, Reuben H. Walkley, pointed to a tiny town called George West, Texas. But mail addressed there came back undelivered. Yet there was a marriage index (Texas, Marriage Collection, 1814-1909 and 1966-2011) suggesting that she and Reuben had been married as recently as 2005. I held out hope that one day I'd track her down.
The SSDI is updated intermittently and is not always a reliable source of death dates for women, who may never have applied for a Social Security number under their own names. That seems to have been the case with Dolores/Carole. Her name still doesn't appear.
But it finally turned up (under Carole Walkley) in the Find-A-Grave website, whose index at Ancestry.com, recently updated, provided confirmation of her death in 2012 at the age of 82. Her second husband Reuben died the same year.
The circumstances of her transformation are sketchy. Over time, after her divorce, she grew distant from the family. She'd sometimes pop up unexpectedly with gifts (once bringing a teapot, once a puppy!), then retreat for long periods of time. She changed her name but thoughtfully let us know what it was before she vanished. I heard that a cousin had run into her in 1998 at a Chicago high school reunion. That was probably the last confirmed sighting we had of her.
People have their own reasons for fading into the background. This is one case that available records can't explain, though the backstory would probably be interesting.
Show comments/Hide comments
August 12, 2014: Pistol packin' mama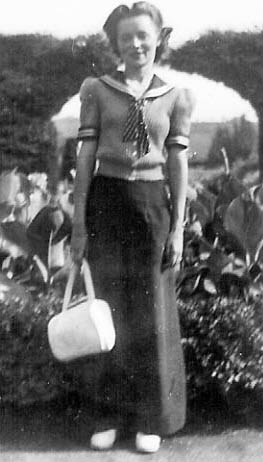 She looked sweet and demure, but don't let that fool you. If you were a bandit in suburban Chicago in the 1930s, perhaps you might not want to do battle with Marie MacLaughlan.
Thanks to the Chicago Tribune, which is currently offering its digitized archives for free perusal, we know that Marie, all of seventeen years old, confronted a trio of bandits one day in May 1932 in a restaurant on south Western Avenue.
Things didn't go quite as planned. After attempting to hold up Marie and her mother, Marie Jatho MacLaughlan, the younger lady pulled a gun on the ringleader of the group, Charles Harrington, and shot him in the hip.
This clipping from July 31, 1932 was in section 1 page 10 of the Tribune. It was newsworthy due to the unusual number of continuances in the case, which must have received some criticism in judicial circles. Two perpetrators, Alex Johnson and Allen Reynolds, both eighteen years old, petitioned for and received probation in the case, and the Tribune, obviously not satisfied with the outcome, was looking for answers.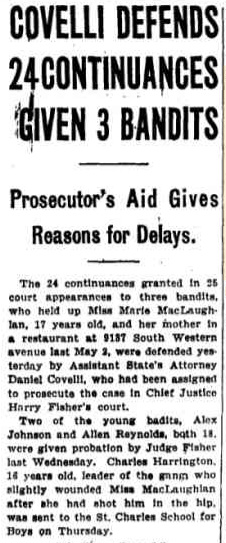 The assistant state attorney, Daniel Covelli, was interviewed by the Tribune about alleged irregularities but insisted that the case was entirely "on the up and up." The judge prosecuting the case had been out ill several times and his presence was needed to decide what manner of probation there would be.
"The state's attorney has nothing to say about probation" Covelli clarified. "We merely present the evidence and let the judge decide."
As for the ringleader, Charles Harrington, who at sixteen was younger than Marie, he was prosecuted in juvenile court by another judge entirely...who, the Tribune clearly believed, had also been too lenient. But the Tribune wasn't able to reach the state's attorney Ralph J. Riley for his comments about the troubling continuances in the Harrington case, and Charles was sent to a reform school, St. Charles Home for Boys.
Usually the MacLaughlan clan kept a lower profile. The Chicago Tribune was a big paper and covered major and minor news stories in Chicago proper. Most of the time if the MacLaughlan name came up anywhere in print, it was in the social notes columns of the Southtown Economist other other suburban newspapers of limited circulation, where Mrs. A.E. MacLaughlan might be joining a family bridge party with her daughter Marie.
From available evidence it appears likely that Mr. A.E. MacLaughlan liked to keep his presence a mystery...a theory that might explain why they moved house twelve times in twenty years and can't be found in the 1940 census. Alva was not one to rock the boat. Someone might find out family secrets that he preferred to keep hidden. Heaven forfend newspaper publicity!
But at least one thing is clear. Marie could be trusted to aim straight and true. Until the Tribune archives revealed this particular secret, we had no idea.
See what you can find out about your Chicago relatives before the archive goes subscription-only!
Show comments/Hide comments
August 2, 2014: A note from the Old Country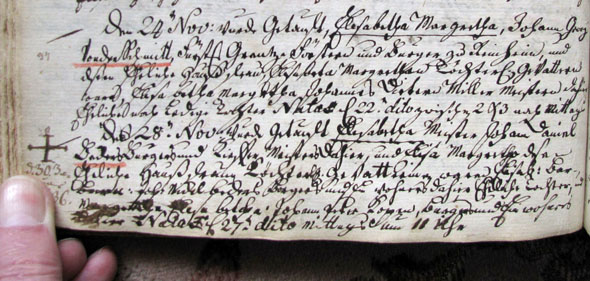 I'm not entirely sure why I haven't written about the Vonderschmitt line before. Maybe it's because they're fairly remote, genealogically speaking. None of their members emigrated to the New World as far as we know. The family lived and thrived in the Hesse-Darmstadt region, mostly in Reinheim, Spachbrücken, and Pfungstadt.
Our most recent Vonderschmitt was Elisabethe Margarethe, whose baptism record (enlarge by clicking the image) is above. Born in Reinheim in 1775, she married Georg Philipp Schuchmann in 1797. They had eight children, and Elisabethe died at the relatively young age of thirty-nine.
One of her sons, Johann Ludwig Schuchmann, did make it to America, settling in Charleston, South Carolina in 1840. He and his son Philip established a thriving haberdasher's shop on King Street, and his daughter was named Elisabetha in honor of her Vonderschmitt grandmother.
Elisabeth Vonderschmitt had a brother, Johann Friedrich, born in 1767. And apparently Johann Friederich had descendants. One of them contacted me this week, a happy surprise.
His family still lives in Germany. He was curious about our connection. I was too. He knew his grandfather as well as his grandfather's brother, Konrad von der Schmitt. As with most surnames, spelling variations exist. But the name's the same.
Konrad had quite a visible life, as this Wikipedia page explains (if you view it using the Chrome browser, you'll have the option to translate it to English).
Konrad, the son of a shoemaker also called Konrad, was a member of the Hessian parliament, a teacher, and a member of the Germany Communist party (for which he was imprisoned in the Dachau concentration camp during World War Two). He survived Dachau and served in the Offenbach labor office and the school board in the Hessian ministry of education.
Our new cousin knew just this much about his grandfather's brother but not whether there was a connection between our families. Turns out there is! I'll need to re-order the microfilms for Reinheim to verify completely, but Albert Esser has uploaded results of his research at geneanet.org, a site where a lot of helpful clues can be found, particularly if you have European ancestry. Mr. Esser's work points to our common ancestor, Johann Georg Vonderschmitt, born in Reinheim in 1720. Johann and his wife Elisabethe Margarethe Frey were the parents of our cousin's ancestor Johann Friedrich and ours, Elisabethe Margarethe.
I feel sorry for folks who are too afraid of sharing material on the web. Of course there are always reasons to be careful -- no names or dates for people still living, no information that would compromise family security, of course. But without the wonder of the web and the crawlers that index our information, we might never have met via email. "Only connect," said E.M. Forster, meaning something rather different. But in the genealogical world the phrase has its own special resonance.
Show comments/Hide comments
July 23, 2014: Hiding in plain sight, take two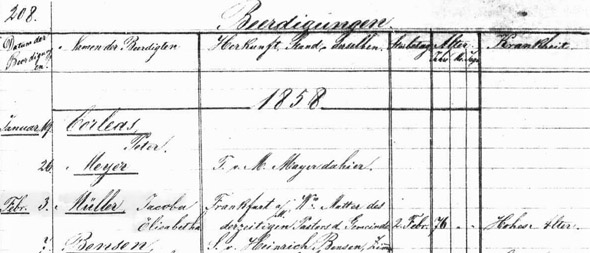 This time I have no excuse. It's my fault. And an idle search through a book I've already read proved to me that I need to pay attention to what I'm reading. She was right there all along: my great-great-great grandmother Jacobina Lommel Müller. She somehow sneaked across the Atlantic without my noticing her. Click the image to enlarge.
Bethany Cemetery Inscriptions, Charleston, South Carolina by Mildred K. Hood is an essential resource for anyone, like me, who has ancestors from Charleston. The German community there was enormous, with a big boom in emigrations from 1830 onward through the rest of that century.
I knew my great-great-grandfather Ludwig Müller had made his way to Charleston (see the post below) but the fact that his mother also came over was a real surprise.
The reason I missed this? Jacoba Müller (as her name is spelled here) doesn't turn up (so far) on any emigration or census documents I can find. The death record above is it. In fact, she's only indexed in the Bethany book because she was buried in an earlier cemetery used by St. Matthew's Lutheran Church, called Hampstead. The book contains an index of Hampstead as well, but I'd never perused it, thinking that all my Charleston folks were either at Bethany or across the street at Magnolia Cemetery.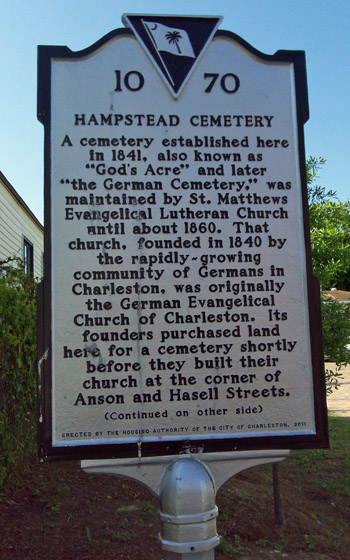 Hampstead, for all intents and purposes, was forgotten over time when St. Matthew's bought new land for the cemetery that was to become Bethany. Headstones disappeared. The land changed hands several times during the twentieth century, and its identity as a cemetery was lost.
Tenement buildings were put up on its surface, with inhabitants no doubt unaware that the land was the burial place of scores of German citizens of Charleston, some old, some younger, some only infants. There were epidemics that hit Charleston hard during the period when Hampstead was actively in use, among them a deadly outbreak of yellow fever in 1858. One family lost eight members in a day to the disease.
Today we know much more about Hampstead because it was discovered, upon its most recent sale, to have been that lost cemetery of yore. A detailed study was performed in 2009 by Brockington & Associates, a professional archaeological firm, when the city of Charleston agreed to undertake an excavation and partial reburial of Hampstead's inhabitants.
437 people were relocated from old Hampstead to Bethany. The project revealed some fascinating details about funerary practices among the German community at that time (the report is available in PDF form from the website, and requires registering to download it, but it's free).
The sad truth, for me, is that of the 437 reburials, only ten could be positively identified due to eroded metal nameplates and the complete non-existence of headstones. This isn't really too much different from burial practices in Scandinavia and Germany, where, as any good genealogist familiar with the region knows, cemetery plots were rented to families on a yearly basis. If the family couldn't pay or if they moved away from the community, the plot was reused, old headstones were discarded, and new headstones for subsequent inhabitants were put in place.
Of course with Hampstead the circumstances were much simpler. The city forgot its own consecrated ground. So the only "monument" that stands to register Jacoba Müller's death is the church book at St. Matthew's, which gives us the simple words that mark her death. Jacoba Elisabeth Müller, born in Frankfurt-am-Main, "Mutter des derzeitigen Pastors d. Gemeinde," mother of the current pastor of the parish. She was 76 years of age, and the cause of death was "Hohen Alten," old age.
We can hope, at least, considering the circumstances of the time, that it was a peaceful passing.
Show comments/Hide comments
July 11, 2014: Memento mori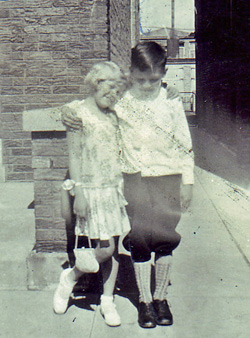 She was the family favorite, charming even as a young girl, adored by her shy cousin Jack Burrill about 1933 in Chicago. Lolus Ella Margaret Bruns carried not only her own unusual name but those of her two aunts, Ella Gohr Schultz and Margaret Gohr Meyers.
Lolus left surprisingly few footprints in the genealogical records generally available. Her birth was recorded in Cook County in 1923 and she's in the 1930 and 1940 census. But until her untimely death fifty years ago today there's not much else.
She was movie-star-struck and rendered admirable pencil drawings of elegant young ladies, one of which was framed and hanging up in her home.
Her older sister Lorraine was the more glamorous sister, and her handsome brother George was the tallest of the three, but Lolus had a vivacity and playfulness that shows through even formal portraits. The three are pictured below in Chicago about 1940.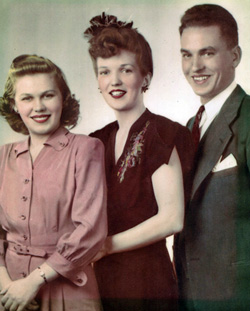 She was the second of her siblings to marry. Her 1945 marriage to Navy seaman Leo Skiba was small and quiet, her dress demure, her flowers understated. The two were well matched: calm, earnest, happy. They were the first in their families to make the big move away from Chicago toward the west.
In 1946 Lolus and Leo came to California and lived in Temple City, a suburb just east of Los Angeles. They both worked---unusually for married couples in those days when the wife usually kept house. There were no children. Children were wanted but never arrived. Leo and Lolus focused their love and affection on two nieces instead.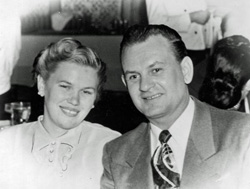 Their home was tiny but just the right size for the two of them. Occasionally it was filled with friends and relatives from the midwest: navy buddies of Leo's, cousins and relatives from near and far. They had a plum tree in the back yard that flowered generously and fruited gloriously. Leo was a surprisingly good cook. Lolus was an enthusiastic homemaker.
The auto accident that took her life in 1964 put an end to their charmed life. Leo survived but never really recovered from her loss. Fifty years on, it seems vitally important to acknowledge this sunny, bubbly woman whose life was cut short but who lives on in memory. She is remembered, and she is loved.
Show comments/Hide comments
July 7, 2014: Forged and flown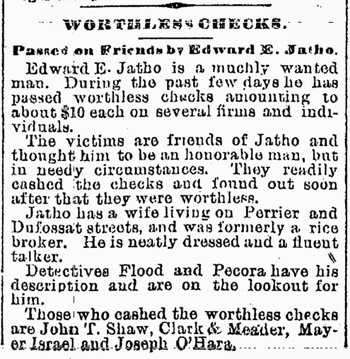 The mystery of Edmond D. Jatho has just been solved, courtesy of some sleuthing in the New Orleans Times-Picayune. And it's not a pretty picture.
His early life was promising. Born the penultimate son in 1860 to Charleston, South Carolina jeweler G.W. Jatho and his wife Elise, he was named Edmond Dantes after a character in the Alexander Dumas novel "The Count of Monte Christo," which suggested hopeful literary pretensions on the part of his parents.
Edmond was the only child of seven to attend college, graduating from the College of Charleston in 1879. His older brothers George and William were skillful merchandise brokers in town, and an even older brother, Philip, was a district court clerk. Maybe it was the pressure to do well that bedeviled Edmond.
We knew that he married well to Edith C. Ripley, daughter of a New York journalist Philip Ripley, whose heritage has been traced back to the Mayflower and beyond. Four children (two surviving to adulthood) followed from 1885 to 1891, and Edmond set up his own business in New Orleans.
Directory entries in New Orleans seemed to show a steady slide down the economic scale, with no apparent reason. In 1891 he was a merchandise broker on Poydras Street. But in 1892 he was merely a clerk on Euterpe Street. And in 1894 only Edith Jatho is listed...as a widow of Edmond. But we know he lived until 1910 because we have his death certificate from Chicago, where he'd been living at the time, working as a U.S. government inspector quartermaster, a provider of military uniforms and paraphernalia.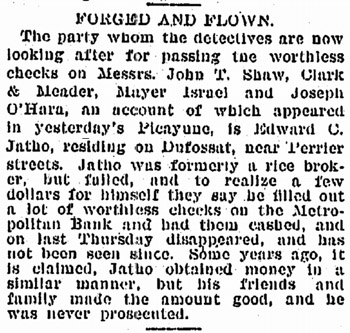 Newly-available stories from the Times-Picayune tell a more complete tale. These news items also suggest why it was that Edmond's New Orleans descendants were never told anything about him, never recalled him, nor remembered him with any reverence...and why Edith was suddenly known as a widow.
A September 1892 notice in the Times-Picayune refers to an auction of household goods resulting from a legal case, J.J. Weinfurther vs. Edmond J. [sic] Jatho, where the proceeds were apparently sold to satisfy the lost lawsuit. Dire straits led to desperate measures, and during the next year Edmond used his charm to finagle friends out of their money. Then he disappeared.
And if the reports were correct, this wasn't the first time Edmond had resorted to larceny. But his family (presumably his older brothers) had reimbursed the injured parties and staved off prosecution. This time Edmond chose flight.

But he didn't fly far afield. His brother George, who had already rescued their youngest brother Carl Julius from the arms of the law (that's a story in itself), seems to have set Edmond up in a fresh business, the Carolina Broom Works, as this advertisement from the 1895 Charleston News & Courier suggests. Perhaps George paid off his brother's creditors again.
The fact that Edmond sold off his collection of law books and other ephemera in 1897 may be a clue to his course of studies during his far-off college days. Or perhaps, as a penitent and reformed rapscallion, he was ready to leave lawyering to others.

Edmond lived for a time in Charleston, then with an older sister Mrs. Marcellus (Pauline) Foster in Augusta, Georgia, behaving himself (it seems), catching up on business, and writing occasional letters to the editor of local newspapers. By 1908 he was in Chicago, overseeing the installation of military camp incinerators to dispose of camp refuse and reduce instances of typhoid fever. An article from the Chicago Heights Star, "Large Government Order for Heights", quotes him as a trusted authority, voicing his opinion that the installation would "result in great benefit to the men."
Edmond died of pneumonia on New Year's Day in 1910 and was brought home by brother George for burial in the Jatho family plot at Magnolia Cemetery. He rests there today. And thanks to the Times-Picayune, we have a more complete understanding of Edmond's life...even if it wasn't always sunny.
Show comments/Hide comments
June 17, 2014: Rev. Muller, I presume?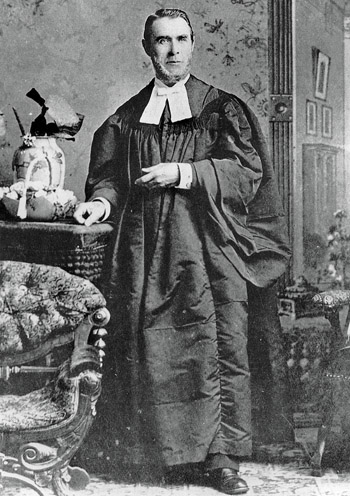 For fifty years he was a steady presence in Charleston, South Carolina. Born Louis Müller, he was known as the Reverend Doctor Ludwig Müller in Charleston and graced the pulpit of St. Matthew's German Evangelical Church with eloquence and tireless devotion to his flock.
Finding traces of his career before 1848, however, hasn't always been so easy. We know he emigrated with his bride Carolina Laurent in November 1842. He didn't come to Charleston until 1848. Where was he before that?
He was in lower east side New York and Brooklyn, according to his 1898 obituary from the Charleston News & Courier. Some of the article is a bit hard to substantiate, though I've seen familiar sentences make their way into family narratives. What type of tears he shed at age eight, for instance, would be hard to document.
But in other ways the obituary is most informative. It's interesting to note that "unfavorable circumstances for Protestant theologians" was the reason for Rev. Müller's emigration from Bavaria -- actually Zweibrücken, Rheinland-Pfalz -- to New York. Ludwig's grandfather, the huntsman Michael Müller, had been Catholic and his father, Frederick, took a Protestant wife. The region where Ludwig was born, Fischbach, was staunchly Catholic, but Ludwig's predilection had been towards Lutheranism.
Also of interest is Ludwig's initial intention to settle in Philadelphia, where the article notes that he had relatives. These could only have been his wife's Laurent brothers, although available documentation suggests that they didn't actually arrive in Philadelphia until after Ludwig and Caroline Laurent Müller were ensconced in Brooklyn. Journalism was ever thus.
Ludwig's first establishment was the German Reformed Church. The obituary designates his initial pulpit at the Forsyth Street location (21 Forsyth Street to be exact), where a schism already existed between rival Lutheran and Calvinist interpretations of the church. This sheds light on the obituary's reference to a lawsuit between several members of the congregation, who apparently had differing views on what sort of theological focus there should be. Ludwig and his followers were forced out for eighteen months, decamping to Grand Street's Columbia Hall while the matter was settled.
In fact, a website includes a version of this same story where the ruckus seems to have swung this way and that from 1838 and on into Ludwig's tenure from 1842-1844. He's referred to as Rev. Lewis Miller, but what's a little spelling oddity among friends? It's indubitably the same fellow.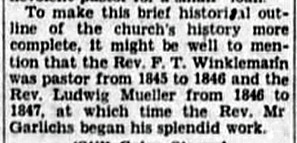 It was too much uncertainty, and Ludwig moved to another German Evangelical Church on Schermerhorn Street in Brooklyn, where he passed two years at the helm of his new congregation. The Brooklyn Daily Eagle, celebrating the church's 90th birthday on October 9, 1931, confirmed Ludwig's brief tenure here.
The Charleston News & Courier article finally gives us the exact reason for Ludwig's migration southward: his health. Whether it was the harsh Brooklyn winters or some other malady, Ludwig traveled to Charleston to preach two sermons at St. Matthew's in February 1848 and was elected pastor two days later. His command of German was likely his strong suit. Ludwig's preaching was usually entirely geared toward the German-speaking congregations where he officiated.
Ludwig brought with him his Zweibrücken-born wife Caroline and children Helena and Frederick, both of whom were born in New York. The family grew and prospered in Charleston, and it's very clear from his obituary how much he was revered by the townsfolk. Thanks to the News & Courier, we now know a bit more about his life prior to Charleston.
Show comments/Hide comments
June 4, 2014: Wedding bells, repeat as necessary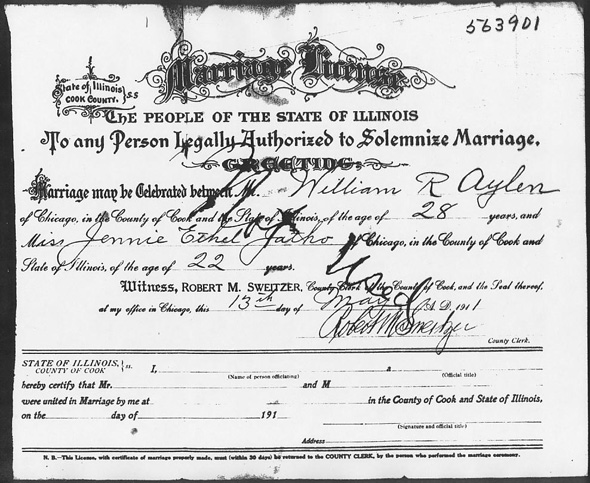 You don't see these very often in Chicago's Cook County clerical archives. On May 13, 1911 this couple took out a marriage license but never used it. It was returned to the clerk's office and resides there today.
At first glance it looks pretty standard. William R. Aylen, age 28, an insurance broker, was set to marry Jennie Ethel Jatho, age 22.
Research tells us, however, that at this point Jennie Ethel was eight months pregnant and was passing herself off in Chicago as the widow of a Mr. Louis Campbell of Charleston. No trace of a marriage to Mr. Campbell has every been found, so the story probably existed to cover up a surprise pregnancy, and it's a pretty good possibility that the Jatho family's relocation from Charleston to Chicago in late 1910 was also a convenient way to hide Ethel's situation.
All that aside, had Ethel been the actual bride, she would have listed herself as Jennie Ethel Campbell. Circumstances point to an explanation that would have accounted for this telling mistake. The young lady using identification to prove that she was of age had probably borrowed it from her older sister. And she wasn't of age. She was thirteen years old. But why let that stand in the way? William was a handsome fellow, as you can see below left.
In later years Marie Jatho admitted to one of her daughters that she'd eloped at thirteen with a much older gentleman but the marriage never took place. I wonder who investigated? Did the nearest justice of the peace have suspicions about the bide's true age? Was there something amiss on the baptism certificate that Marie presented as her own? Or did William Aylen get cold feet?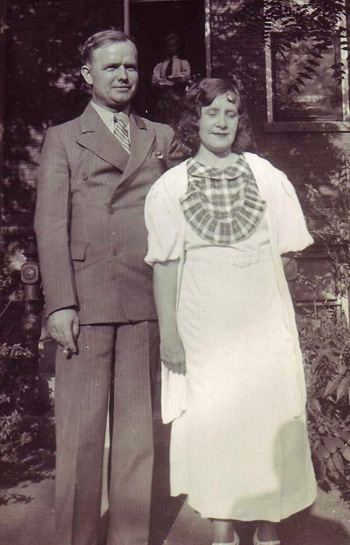 William himself may have actually been married at this time and may not have been able to prove that he was free to marry. The 1910 census tells us that he was married to a lady called Lillian, had been married for five years, and had two infant daughters, Irene and Iris (called Gertrude in the census).
But in 1912 and 1913 the Cook County marriage index shows that he married or took out licenses to marry the same woman, Lillian G. Baillieull, to whom he was presumably already married and who was the mother of his two girls. This is a confusing development, one that available records don't fully explain.
Also in 1912, just a week after the first marriage with Lillian named as his wife, William is listed as marrying Florence O. Brandon. And in 1920 in Indiana William married Catherine Morrison. In the 1930 census his wife was Mabel Alice Walker. Perhaps William had a thing for the clerk's office.
As for Marie Jatho, she had a couple more years to wait for matrimony. On June 4, 1914 (one hundred years ago today) at the mature age of fifteen she married Alva E. MacLaughlan in Chicago. The adorable couple are in the photo at right, with their glowering teenage son Thomas just barely hidden in the background shadows.
Anecdotal evidence informs us that it was not a happy marriage, but Alva and Marie weathered the storms as best they could. They had four children, raised them in Chicago, and moved to California about 1946, where they continued to get on each other's nerves until Marie died in 1956 at the age of 58. I wonder whether she ever thought back on her almost-marriage to William? Well, a girl can always dream.
Show comments/Hide comments
May 30, 2014: Revisiting the past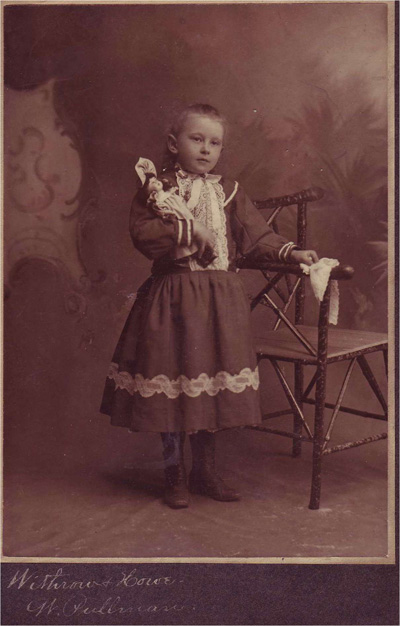 This little girl has languished for some time in my photo archives as Unknown Girl, yet another image from my great-grandmother's collection. It's marked on the margin in white ink, but the best clue I have is this: Withrow & Howe, W. Pullman. No notation on the back about the girl herself, who looks about five years old.
Looking over old Petersen photos has become de rigueur of late, now that I've found a new cousin from this line who might have questions. And just having had a breakthrough the other week, identifying my great-grandmother Catharina's older sister, I realized that there's a bit of logic I can apply to her record-keeping.
Catharina didn't label photos of people she knew really well, or people who were close to her.
Another clue: West Pullman was a neighborhood in south side Chicago. The photographers' names, we can safely theorize, were Withrow and Howe. They had not been a partnership long enough at the time this photo was taken to have arranged for imprinted card stock with their names engraved, as was customary with other studios. Perhaps they didn't stay together very long. Searching through available online lists of Chicago-area photographers doesn't reveal any studio with that name, although there were a couple of Howes.
As for the little girl herself, there's something compelling about her cool, calm stare somewhere to the left of the camera. Her dress is elaborately decorated with lace trim, her high-button boots are fashionable rather than workaday. She holds a lace handkerchief in one hand and a dark-haired doll in her arm.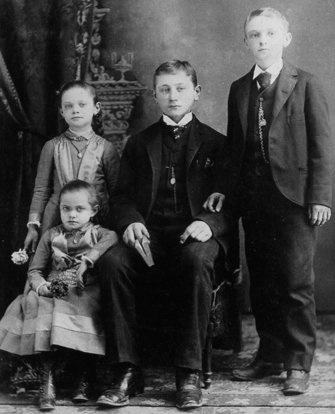 As I looked at her face I realized that she strongly resembled someone I could identify: one of Catharina's older sons, Peter Heinrich. He's the dark-haired boy seated in the picture at right, taken about 1900 or 1901.
If that's the case, noting the details of the child's presumed age, this girl must be Margaretha Petersen -- Maggie to her family -- and at the time this photo was taken she was the only surviving girl in a family full of brothers.
Assuming this really is Maggie, the picture must date from 1892 or 1893, when she was four or five years old. Naturally Catharina would always know who this little girl was. She didn't need reminding. But we do.
In the second photo with her two brothers, Peter and Alfred, there's a new sister, Maria Catharina, born in 1899. Maggie stands or kneels behind her. Maggie's face has begun to change and there's evidence of photo distortion or illness in her face, it's hard to tell. But I think that her resemblance to Peter gives us the best clue we're ever likely to have about the identity of the little girl in lace.
As a genealogist, I don't like having to rely on circumstantial evidence to generate a hypothesis. But that's all we have with this particular photo, and sometimes a hypothetical identification is better than none at all.
Show comments/Hide comments
May 22, 2014: Something new has been added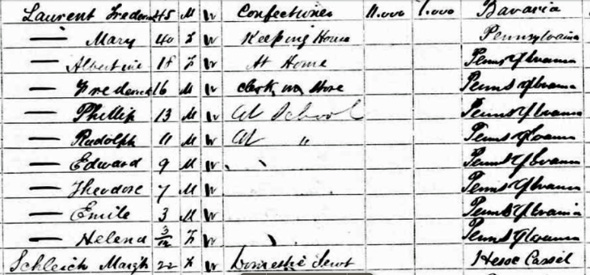 For some reason about eight years ago I jotted down a note about a marriage record from New York City between a Philip Laurent and a Minnie Stetson. The marriage took place in 1902. I suppose I was planning to follow up and see whether there was any connection between this Philip Laurent and my great-great-grandmother Caroline Laurent Müller, whose family lived in Charleston, South Carolina. But instead I tucked the note away in a file folder and lost track of it. And forgot about it.
But old notes sometimes pop up again, and this one did. I looked at a transcription of it online. Funny...Philip's father was called Frederick Laurent. My great-great-grandmother had a brother with that name. And her father was called Philipp.
At some point I must have looked at the original record, perhaps via microfilm, perhaps online (if it was once online, it no longer is), because I noted that the witnesses to this marriage were Mary F. Corvie and Lulu Laurent.
A quick check of the 1870 U.S. federal census record, above, turned up a Philip with a father called Frederick in Philadelphia, and the father's birth year roughly matched the one from my family. He was a prosperous man, a confectioner, the founder of F. Laurent & Sons, and by newspaper accounts it's clear that his children were well regarded in society. The Philadelphia Inquirer reported regularly about Philip's accomplishments as a marksman in local tournaments.
In the 1900 U.S. federal census there's also a Louisa Laurent, born in February 1874, listed as Frederick's daughter and Philip's sister. Is this the Lulu Laurent who was a witness to the New York marriage?
A transcribed birth record for Helena, one of the children of Frederick and his wife, Marianna Schaefer Demme, also show the father's name as Frederick Christ. Lorent [sic]...one step closer to Caroline's brother Christian Frederick. And a 1904 death notice in the Philadelphia Inquirer narrows down Frederick's age to within pitching distance of 1824, the year he was actually born.
I don't normally use online trees as conclusive evidence for anything but they can offer good clues if used carefully. One at AncestryLibrary.com seemed to have the relevant information: Frederick Laurent, son of Philipp Laurent and Philippina Junglbut, born in 1824 and died in 1904. Same parents as my great-great-grandmother. I think we have ignition!
Why I didn't stumble upon this earlier is anyone's guess. Caroline's sister Louisa emigrated to the USA and was based in New York, I knew that. Is it really so strange that another sibling might have joined them in the New World? In fact, there was an Augustus Laurent in Philadelphia, a druggist, with the same birth year as Franz Ludwig August Laurent, another brother. More research is needed to connect him to my family, but there's a good chance that two Laurents in Philadelphia may have more in common than coincidental surnames.
Show comments/Hide comments
May 5, 2014: A lily by any other name....

In 1911 a woman named Lilian Bruns was a witness to two marriages held within a week of each other in St. Joseph's Church in Chicago. One of those marriages involved my grandfather, George Bruns, and my grandmother Bertha Gohr. The other was the marriage of Laura Bruns to John Burrill.
Brunses I know. George and Laura are brother and sister. But who is Lilian? My database had no such person, and a quick search of various census years resulted in no Lilian or Lillian Bruns in my family.
Until ProQuest offered a recent "open house" of its obituary collection, Lilian remained a mystery...then I found this obituary from the Chicago Tribune from 1945.

Among a number of familiar names is a survivor, Lillie Dowling. The surname rang a bell, and another quick consultation with my database cleared up the matter.
George Bruns' older sister, Elizabeth Bruns, married a Joseph Dowling in Chicago in 1916. If she was referred to as Lillie in the obituary, wouldn't it make sense that she was using the nickname Lilian in her capacity as witness to her brother's marriage some thirty-odd years earlier?
It's true that sometimes families assign nicknames for relatives that don't have expected antecedents. But if Lillie had originated as a derived nickname for Elizabeth (her mother's name), then Lizzie → Lillie isn't that far a stretch!
Show comments/Hide comments
April 18, 2014: A journey across the sea

Traveling with two small children on an airplane these days has its ups and downs. Imagine attempting a voyage like this, but in 1883 and on a ship!
Christine Petersen's name appears on a Hamburg, Germany manifest, a helpful document, worth seeking out if your ancestors came to America via the indirect route, e.g. Hamburg to Liverpool and then Liverpool to New York, or directly from Hamburg to New York. The latter option was more expensive, and in this case, that's the way Christine and her family were traveling.
Hamburg departures helpfully give the last residence of the individual. In this case it's Leck in very far north Schleswig-Holstein. That's a town I know well. My great-grandmother Catharina Petersen was born there, and it was the departure point for several of her own family five years earlier. They were bound for Nebraska, where Catharina's cousin and fiancé was already living.
Based on new information from a cousin, I now know that Christine's husband Hans was Catharina's older brother, and from the look of this listing he's already in America, probably in the town of Hebron, Thayer County, Nebraska, where Hans' other siblings were living. Christine and the children are coming over to join him. The departure date is September 5, 1883. That's a good clue toward finding their arrival in New York, probably some three weeks later.

And we have it! The Frisia docked at New York's Castle Garden emigration port. This was nine years before Ellis Island opened. Christine is now reported to be from Prussia, but Prussia's a very big place. If this arrival document was all we could find, it would be harder to prove that this is our sought-after Christine and her family. If Hamburg was the departure point it's worth seeking out the manifest from this database due to its extra information. Ancestry.com is one place to look for Hamburg manifests. They're also available on microfilm.
Son Peter, age 5, and daughter Line, age 2, are traveling with their mother in the second deck area of the ship Frisia. We next see the family in America for the first time in the Nebraska state census for 1885, configured in just this constellation, with Hans Petersen at the head, so this is likely the right family.
What happens after that is a mystery. There's no 1890 census, and the family can't be found in the 1900 census. Did Christine and the children meet some unfortunate circumstance? These were times when illness could run rampant and devastate a family. But Hans' first family appears to have vanished without a discernable trace.
Show comments/Hide comments
April 4, 2014: Getting warmer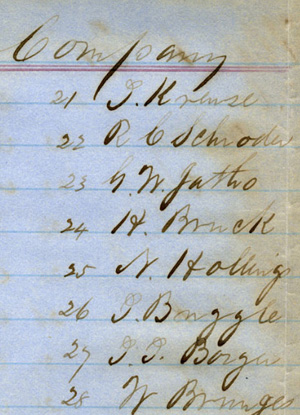 Online repositories like the Lowcountry Digital Library are becoming more plentiful, bringing a host of materials to the Internet that would otherwise be accessible only to local researchers. Charleston is across the country from me, so I appreciate the little tidbits of information I can glean from them.
One of my favorite search terms is also one of my rare ancestral surnames. I use it to test a database to see how responsive it is. So when I plugged in "Jatho" to the Lowcountry database, I assumed I might get something back...my Jathos were all over Charleston from 1848 through the 1950s.
This is a neat little gem at right. My great-great-grandfather G.W. Jatho, a German immigrant who worked as a watchmaker and jeweler in Charleston, appears on a list of volunteer firefighters in 1864. He would have been forty years old that year. I hope he wasn't expected to climb ladders and haul tubs of water into burning houses!
In fact, the little collection of documents included within this search is useful for more general details. It shows a blank form (below) that the local fire official would fill out to prove a man's enrollment in the fire companies of various sections of Charleston. His services "being indispensable to the safety of this City," said individual would be exempt from military service in the Civil War (in the south also referred to as the War Between the States or "The Late Unpleasantness"). That was a good thing for a man with a wife and seven children to support, not to mention a man in his middle years.

The blank certificate also illustrates examples of the kind of equipment available to firefighters of the time. The enlargement at left shows the hose-keeper and the fire "truck" itself with a large vessel for holding water. Both units, it appears, could be pulled by a horse to wherever the fire happened to be. Under siege as Charleston was during the height of fighting, fires must have been commonplace, and a local band of volunteers would have been essential to city services during the conflict.

This document also verifies another fact about G.W. It places his residence squarely within Charleston at least in 1864, and probably throughout much of the Civil War. It's in keeping with other documents, such as advertisements for his watchmaking and jewelry business, that give his location at 87 Cannon Street in the northern part of the city. His wife Elise and seven children, legend has it, lived away from the conflict, and later research suggests that this might be true.
In 1869 and 1870, we now know, they can all be documented as living in Greenwood (see the post below for more details). The Jathos may have been living there earlier. If I can get to directories for Greenwood from 1860-1869, assuming that any were published, it might give us better information about their life in western South Carolina during that time. Sounds like a new research project is brewing....
Show comments/Hide comments
March 26, 2014: Once was lost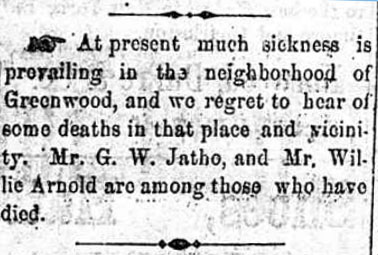 The work they're doing at Chronicling America, the Library of Congress project to scan and upload historical American newspapers, is a wonderful project. Not only is it free, it can offer previously hidden details about the families you're researching.
For almost ten years I've been looking for some printed evidence (other than the engraved note on his widow Elise Jatho's grave marker in Charleston, South Carolina) that her husband, G.W. Jatho, died in some city somewhere. Today it popped up in the October 28, 1870 edition of the Abbeville Press & Banner, a small regional newspaper in Abbeville, South Carolina.
Death records were not state-mandated at this time so all we have to rely upon are alternative sources for information about G.W., who was only 46 when he died (oddly the same age as my great-grandfather William G. Jatho, his middle son).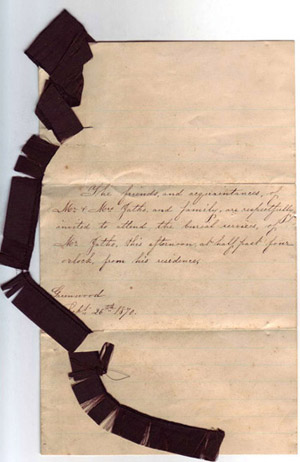 We do have the elegantly penned note about the funeral in Greenwood, the next town over from Abbeville, which had been carefully saved by another son, George William Jatho, along with the black ribbon of mourning that George wore on his sleeve that early autumn day in 1870. You can click the image to read it.
No clue about what G.W., a jeweler and watchmaker from Charleston, was doing across the state in Greenwood, far from Charleston. The Abbeville Press offered an article from April 1869 relating a social event in Greenwood, where Mrs. Jatho and her friends put forth an entertainment meant to benefit the local Presbyterian and Methodist churches.
We also know that G.W. and his family were enumerated in Greenwood in the 1870 census. Perhaps it was a country get-away, meant to spare the family whatever diseases were running rampant in Charleston, where the climate was more tropical and waves of illness from typhoid to scarlet fever were a serious problem for the local populace. Alas, G.W. didn't escape his fate in Greenwood. We just don't know the exact nature of that fate, just a generic "illness."
Another surprise today: someone has been transcribing deaths at Greenwood Cemetery and look who's there! Findagrave.com is another invaluable resource for the genealogist.
I've been through published books of cemetery transcriptions for the region and have never managed to find G.W. in any cemetery until today. Traditional genealogical research certainly has its place, but the Internet clearly has some gems of information to be gleaned. We just need the patience to wait.
Show comments/Hide comments
March 14, 2014: A new identity for an old photo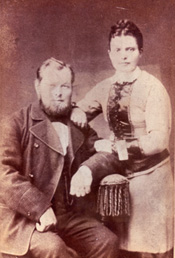 This was once one of my most puzzling unidentified photos. A lady well dressed for her era, posed with a gentleman I assumed to be her prosperous husband...but what country were they from? Denmark or Schleswig? And why did my great-grandmother Catherine Petersen not mark this photo from her collection? Of course Catherine wasn't diligent about captioning, but this photo remained a mystery for almost ten years.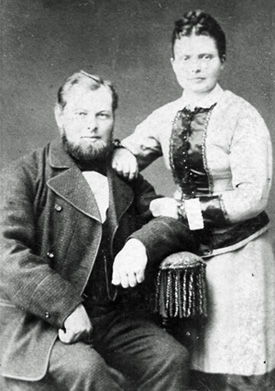 Then my new cousin sent me a copy of the very same photo, in much better condition, and marked on the back.
My cousin's grandmother was meticulous about organizing family memorabilia and photos, and she had noted that the lady was Helena Burmaster and her husband Fritz, sister of Alfred Petersen of Omaha. Therein lay the surprise, for me. If she was Alfred's sister, she was also my great-grandmother's.
But previous investigations into the family structure back in Schleswig, even a thorough research project by a hired genealogist in the local archives, had uncovered no such lady in the family. I had assumed (wrongly, it appears now) that Catherine Petersen was the only daughter in the family. She was not!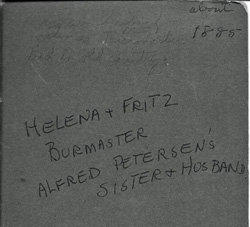 The faint writing on the back of the photo says that Helena died in the old country, never having emigrated as most of her brothers and sister did. The suggested date was clearly just an estimate. It's easier to determine the right era, based on the style of Helena's dress with its distinctive fabric front piping, and her hairstyle, which was most often worn in a coil on the top of the head from the late 1860s to the early 1870s. So if I had to date it, I'd suggest that range of time.
No wonder Catherine hadn't bothered to caption the photo. She'd never have forgotten who her sister was. But she neglected to consider the family historians who might struggle to properly identify all her artifacts.
To prove that this was truly a daughter of my great-great-grandparents Peter Hansen Petersen and Elise Momsen, I needed to do a bit of research. The Danish Archives had done a truly wonderful job of scanning and making public their church books and census records. I knew that this family had lived in Sudtöndern during this time, which is northern Schleswig, and as luck would have it they had a copy of the 1860 census for Karlum, the district where these Petersens lived at the time.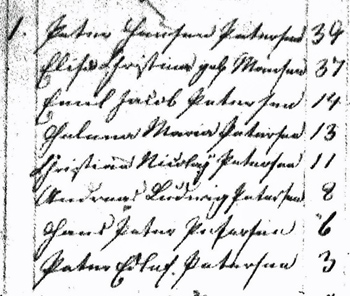 And the census proved it. There was Helena Maria Petersen, listed fourth in the family, age 13. So that narrows down her birth year to 1846-1847. To find out for certain when she was born, I'll need to hire my researcher again to visit the local archives. Alas, Schleswig church books are not online.
It also occurred to me that this older girl was named Helena for a reason: she was the first girl born to the family, so considering the standard naming conventions of this area of Schleswig (and in fact in many Danish and German households) she must have been named for her paternal grandmother Ellen Jürgensen. Ellen was born in 1799 in the town of Jündewandt, just over the Danish border. At Helena's baptism she may in fact have been one of the godparents.
That would be a terrific record to find. I guess we'll know for sure if and when my researcher is able to find a record of her birth.
Show comments/Hide comments
March 9, 2014: Five boys from Schleswig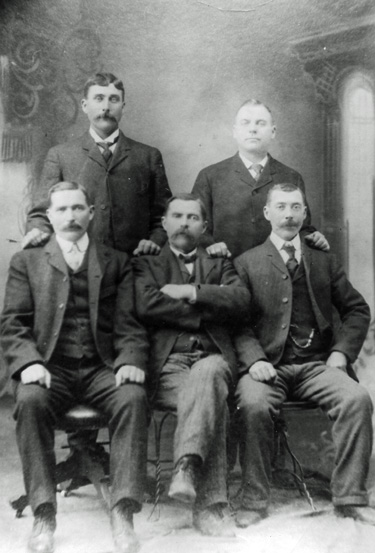 This is why I love the Internet. Okay, one of the reasons.
I received an email from out of the blue. Someone had come across an old online forum post of mine mentioning my Petersen connections in Nebraska. It's where the two families -- Peter Hansen Petersen and his brother Lorenz -- started out in the 1870s.
The fellow who wrote is a descendant of Alfred Petersen, my great-grandmother Catherine Petersen's older brother. I knew he'd stayed in Omaha, Nebraska because she kept photos in her collection of a visit she made there about 1937. She and her brother Alfred are pictured together along with their respective families.
So my new cousin shared the first in a series of photos with me, and they're genealogically mind-blowing.
This is something I never thought I'd see: a photo of five of the brothers together in Nebraska. Seated from left to right are Andrew, Louis, and Alfred. Behind them, according to the inscription, are Peter (left) and Peter Hans (right).
Wait a minute...Peter Hans? Does this really mean Hans Peter? Because if it does, that means one more brother came over to America. Until this photo, I had no idea he was here.
More to come as I get everything settled. There are more surprises afoot, I'm sure.
It goes without saying -- which is why I'll say it -- that I'm eternally grateful to my new cousin for reaching out. Genealogy gets no better than this. Only connect!
Show comments/Hide comments
February 22, 2014: On a French roll

When an ancestral line opens up like this, sometimes you can't stop.
The biggest challenge comes from trying to sort through multiple records for men called Lorentz in Haut-Rhin. Sometimes your get three guys called Joannis Lorentz and you don't know which one is the direct ancestor of the previous one.
The wrench in the works comes in the mid-1600s, when from about 1638 through 1645 pages are missing from the local church books. I have yet to sort through the precise, documentable chain of command. But I'm pretty sure that this marriage record from 1637 has something entertaining for everyone.
Even if your head is swimming with people called Lorentz, focus for a moment on the pretty Gallic calligraphy in this record. This is a sure-handed clerk who mixed his ink properly and cut his quill like a professional. The descenders are delicious, the flourishes are fabulous. And the ligatures? I like 'em. You can see the record bigger, here.
One thing to note about this man, Michael Lorentz: he's not from Ammerschwihr, where this marriage was recorded. He's from the little village of Zell, also known as Labaroche. When the clerk notes a place of origin for one of the marriage partners that's different from the marriage place, we're meant to pay attention. The bride, M[aria] Magdalena Luxman, is from Ammerschwihr, notes the clerk. It's customary for the marriage to take place in the bride's parish, and that's what we see here.
Michael Lorenz has brought a trio of witnesses with him from Zell, one of whom is Joannes Lorenz...very likely his father, though it could be a brother or an uncle.
Alas, we're not likely to know. Parish records from Zell were filmed beginning in 1683, not earlier. It could mean that previous records weren't kept, or didn't survive, or ended up somewhere else and were lost. If this marriage hadn't taken place in the bride's home village, we might never have met Michael Lorenz at all. But we might find some Luxman families going deeper into the past.
Show comments/Hide comments
January 8, 2014: Bennwihr bonanza

One step to another is all it takes, sometimes, even when you're moving backward.
Lorenz Dominique Laurent is right there in the record book, in an eminently readable record. The region is now Alsace, the community is Haut Rhin, and in the ancient town of Bennwihr (which dates back to the year 777 CE and where official records of the region were recorded) Laurentius Dominicus was baptized on 5 August 1743 -- written in Latin because this is an almost entirely Catholic part of the world.
His father, Joannis Jacobus Laurent, was a citizen of Bennwihr. The mother was Anna Margarita Weegbächerin of nearby Eguishheim, his wife. Joannis Jacobus would have been known in French speaking circles as Jacques. So that fits neatly with our previous record, Lorenz Dominique's death record.
The first godparent, in the next box to the right, has the phrase "laudatus dominus" ("praise the lord") before this name. He was Joannis Josephus Barthe, a head clerk of bailiffs. The other godparent was Carolina Weÿin, wife of the local citizen Joannis Metzger. Unusually, both godparents sign the document --- so we know that both were literate.The parish clerk, Joannis Michael Werner, signed the entry too.
The same microfilm, FHL #0724716, includes marriages as well. Sure enough, there's a 1742 marriage record for Joannis Jacobus (Jacques) and Margarita. The bridegroom was the son of a councillor in nearby Ammerschwihr, Joannis Laurent. The bride's father isn't listed, which is customary when she's been married before. The record identifies her as the widow of the deceased Antonÿ Barthelmé.
The French love signatures! Joannis signs as Hans Jacob Lorentz ("Hans" is a diminuitive of Joannis). His father Joannis Lorentz also signs as a witness, as does one Anthony Meÿer. Margarita cannot write, so she signs with an X.
This record tells us to watch out for earlier versions of the Laurent surname, spelled Lorentz. That's what we'll be looking for as we go further back into researching this name.
Show comments/Hide comments