Spachbrücken and Reinheim, Hesse-Darmstadt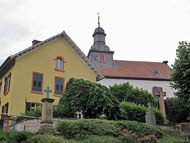 Our Vonderschmitt ancestors may be the most remote of any in our line, not chronologically but geographically. Thomas von der Schmiden (as it was then written, spelling being a mostly fluid art at the time) was born in 1640 but was referred to in local church books as "ein Welscher," a foreigner, so he came from elsewhere.
"Welscher" in German usually meant someone specifically from outside the German-speaking region, such as someone whose native language was a Romance or Celtic language. It could refer to someone who lived on the French border as well as someone from Spain or Italy. There's a fascinating Wikipedia page that explores how various forms of this word for foreigner existed in almost all Indo-European languages. Thomas' surname "von der Schmiden" was not a title of nobility but likely a place name.
Thomas' married his first wife, Christina Bentz, in 1666 in Spachbrücken. Christina was from far afield too. She came to Spachbrücken from a town transcribed as Pein in Pommerania. This may be Pcim in present-day Poland. Thomas and Christina had four children before Christina died in her late twenties.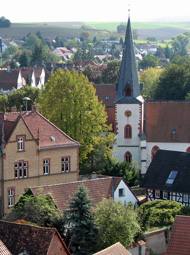 The death record for Christina at left suggests a life fraught with resettlement and unknowns: "Christina, wife of Thomas Schmidt at Spachbrücken was buried, age 28 or 29 years, because she was fathered in warfare one could not know the exact number [of years]. Her mother's name was Anna Bentz from Pein (?) in Pommern (serving as a maid for Wendel Neeb and died May 13, 1657), but who Christina's father was, nobody could know." Thomas remarried Anna Forch, widow of Johann Heinrich Maÿer, in 1676 and died in 1690 at the age of 50.
The Thirty Years War was probably responsible for all this uncertainty. Its disruption to peaceful family life paved the way for many such migrations from region to region. Although Thomas and Christina were strangers in Hesse-Darmstadt, their descendants have been settled comfortably in this area for three centuries, and cousins of ours exist there today.
Thomas' eldest son with Christina was Johann Heinrich, born in 1667 in Spachbrücken, though he resettled in Überau. Around 1690 he married an Elisabetha Catharina (her original surname is not known and their marriage record is evasive). They had five sons. The eldest's baptism record, which should have been entered into the church book at Reinheim, is also evasive but we believe he was Johann Nicolaus Vonderschmitt, born in 1690.
In the absence of clear documentation we rely on circumstantial evidence to suggest that Johann Nicolaus was the son of Johann Heinrich. Johann Nicolaus, a "Schreinermeister" (master carpenter) in Überau had eight children with his spouse Maria Christina. Johann Heinrich was a godparent to three of them. Johann Heinrich's sister (and thus Johann Nicolaus' presumed aunt) Elisabetha Catharine Rückert was a godparent, so was her daughter. And Johann Heinrich's second son Johann Georg was also a godparent as was Johann Georg's own son. The presence of so many potential relatives suggests a close familial relationship.
Johann Nicolaus' eldest son, Johann Georg, was born in 1720. Breaking with tradition he became not a carpenter but a forester or groundskeeper for a local prince. Johann Georg's 1753 marriage to Elisabetha Margaretha Frey in Reinheim resulted in nine children. One daughter, Elisabetha Margaretha Vonderschmitt, married Georg Philipp Schuchmann, a braid and lacemaker in Reinheim.
The Schuchmanns are well known to us and were established in the Reinheim region as far back as the middle 1500s. Elisabetha's marriage to Georg Schuchmann resulted in several children, including a son, Johann Ludwig Schuchmann (1805-1872), who became a well-known haberdasher in Charleston, South Carolina.
Many thanks to Albert Esser, who has done excellent research in the region and helped us unravel the roots of this tree.