Robers from Westphalia and Cincinnati OH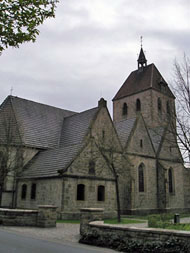 Johann Gerhard Robers was baptised in the parish of Dreierwalde, Westphalia on September 13, 1805, the son of Joannes Bernardus Robers and Anna Margaretha Terbeck. Dreierwalde was his mother's parish, and records of her marriage to Joannes Bernardus and the birth of their first child, Anna Margaretha, in 1800, report the surname as Rogges.
This may be merely an error or perhaps an earlier form of the surname. For the baptism of their first son Joannes Bernardus in 1803 the surname was clearly Robers.
Johann Gerhard and a brother or cousin, Gerhard Robers, emigrated from Bremen to Baltimore on the ship "Sophie", arriving in September 1837. They both were listed as being from the town of "Buchsen" (probably Bexten in Westphalia) on the manifest, and are "econom", or farmers of small holdings.
Other Robers immigrants settled in Wisconsin and Ohio but we haven't yet established a connection to them.
John Robers married Theresia Schulte (spelled Schold on their Hamilton County marriage license, probably because neither the bride nor groom knew the exact spelling) on January 9, 1849 in Cincinnati. Theresia and a sister Maria Schulte emigrated to the USA in August 1846 from Bremen on the ship Elise, arriving in Baltimore, a popular port for German immigrants in Cincinnati. Their last residence was listed as Mesum, a town about ten miles from John Robers' home village.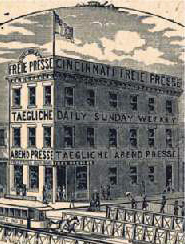 John Robers was a laborer supporting a growing family. There's a possible link to the family of Bernhard H. Robers, a chair and furniture manufacturer in Cincinnati. Several of John Robers' daughters were chair caners by profession before their marriages.
John and Theresia Robers had seven children: Mary/Maria (1849), John Bernard (born 1853, died 1854), twins Joannis Clemens and Joannis Gerhard (1855, though Joannis Gerhard died in 1856), a second set of twins Gerhard/George and Elizabeth (1858), and Katherine (1862).
John died of dyspepsia in 1885 but their grown children lived with their mother Theresia in the same Cincinnati home where they were raised. John's will stipulated that all his property would be left to his "beloved wife Theresia." Their children continued to remain at home with their mother until she died in 1892.
Theresia's will left $15 each to her sons John and George. Daughters Elizabeth (Lizzie) and Katherine (Katie) were bequeathed $50 each. Very generously Theresia left $100 to her 9-year-old grandson Joseph Henry Bruns, son of Lizzie and husband Bernard Bruns, then living in Hobart, Indiana.
To Theresia's unmarried daughter and oldest child Mary, Theresia left her home and property.
Lizzie Robers had married Bernard H. Bruns (also from Cincinnati) around 1882 and they raised a family of four, relocating eventually to Chicago, Illinois. Katie, who remained unmarried, lived with her elder sister Mary for a time and then with Bernard and Lizzie Bruns. After Lizzie's death, Katherine became Bernard's second wife.
John Clemens Robers married Rose Grandeman in Cincinnati and they moved across the river to Kenton, Kentucky. Their son Harry was baptised at St. Boniface Church in the town. Rose died in 1909 and Harry married a lady called Josephine.
Harry and Josephine relocated to Florida and Harry died there in 1941. John Clemens returned to Cincinnati after his wife's death and died of pneumonia in 1918.
George Robers never married. He was a laborer in Cincinnati and died in 1930. His elder sister Mary, a seamstress, died in 1933.
The Robers are hard to find in U.S. census records because the enumerators misspelled their surname frequently (1860: Robbins, 1870: Rabes, 1880: Robbas), so city directories are a particularly helpful resource in locating them. We are very grateful to cousins Cherlyn Bruns and her daughter Sheila for uncovering important Robers vital records.