MacLaughlan from Chicago IL and Southern California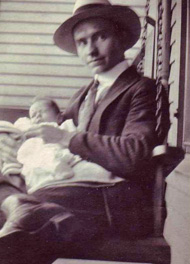 Alva Elwood MacLaughlan was born in Chicago on March 24, 1894...but that wasn't his birth name. If you have Alva in your family tree and have been trying to trace the family's roots to Scotland, look toward Denmark and Schleswig-Holstein instead.
Alva was born Alfred Emil Petersen in Chicago to Hans and Catharina Petersen, both of Danish heritage from Schleswig-Holstein. Alfred was the middle child of eleven, the rest of whom kept the surname Petersen, and was named for his maternal uncle Alfred (originally Peter Edlef) Petersen of Omaha.
Alfred's transformation from Petersen to MacLaughlan (or varied other spellings of the surname) first appeared in his Cook County marriage license from 1914 where he married Marie Jatho. In 1916 at son Thomas' baptism he was listed as Alfred Petersen-McLaughlin; at right he's seen holding either baby Marie (born in 1915) or Thomas (born in 1916). Below is a photo of Thomas (left) and sister Marie.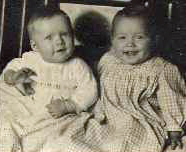 He was Alfred Edward McLaughlin in 1917 when registering for World War I. In his second son's birth certificate he's listed as Alfred Emil McLaughlin.
In several newspaper articles from the 1920s through the 1940s he used his first two initials and the surname: A.E. MacLaughlan (apparently his preferred spelling). In the 1930 census he was (probably mistranscribed) Alba McLaughlan.
By 1935, when registering for the Social Security program, he listed Alva Elwood MacLaughlan as his name, inventing new names for his parents: Thomas MacLaughlan and Kathryn Elwood. He and his family are missing in action in the 1940 U.S. federal census (a handsome reward will be offered to anyone who can track him down). In the 1941 Chicago telephone directory he was A. Elwood MacLaughlan, yet another permutation.
In the photo below right, Alva's son Thomas, about 16, is standing next to his mother Marie Jatho MacLaughlan, while cousin Cathie Breetzke (left, age six) stands with her cousin Dolores MacLaughlan (age five), outside their home in Chicago.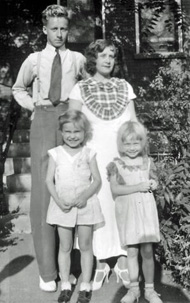 Why the name change? Several stories coexist. His Petersen clan believed that Marie wanted to marry an Irishman...so obligingly Alfred/Alva became one. Marie's family thought the name change was from McLaughlin (Irish) to MacLaughlan (Scots) to avoid anti-Irish sentiment.
Most likely it was actually anti-German sentiment during WWI, which could affect anyone vaguely assumed to be German and might make it difficult to find employment. It was a puzzlement to his Petersen family but as his mother Catherine once put it, "Alfred just wanted to be Irish." Maybe that's the best explanation we'll find.
Alva was a bookkeeper, his wife Marie a homemaker. They had four children: Marie in 1915, Thomas 1916, Alfred/Alva Jr. 1920, and Dolores 1929, all born in Chicago. The family traveled by car and resettled in other towns as far afield as Florida and California during the 1920s while Alva pursued a variety of business opportunities, but the family always returned to Chicago.
Alva and Marie moved to California permanently in 1946 after Thomas' return from active service in the army. Thomas and daughter Dolores accompanied them. Older daughter Marie married Walter Miller in 1941 and the couple settled in Omaha. Younger son Alfred/Alva married Doris Vern Rohde and lived in Chicago, eventually relocating to Florida.
Marie Jatho MacLaughlan died in 1956 near Barstow, California, where she and Alva had lived for three weeks, managing a motor court. Alva, while working as a security guard in Whittier near Los Angeles, died in 1957 of a heart attack. His death certificate reported that his parentage was unknown. Diligent research has uncovered the missing details.