Künzel and Kientzle from Remmingheim, Württemburg and Reichelsheim, Hesse-Darmstadt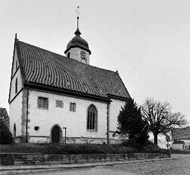 A note: orthography was by no means standard in records of this era, and with no fixed spelling the clerk often wrote down the same as it sounded to him. Künzel (Kuenzel without an umlaut, pronounced something like "Kenzel") was originally spelled Kientzle, Kientzly, or even Kinzlin. There are people in the Remmingsheim-Neustetten area today whose surnames are still spelled Kientzle and we're likely related to them.
A new region for our ancestry is Remmingsheim, a village that is now a part of modern Neustetten, Württemberg. Württemberg was then a duchy in the southwest corner of what was then called the Holy Roman Empire.
Our earliest ancestor from Remmingsheim was Martin Kientzle, born about 1560. For almost 150 years his descendants were also called Martin, so it's understandable that some confusion might arise as a result.
Remmingsheim records show three marriages for Martin Kientzle, who is identified as the son of schoolmaster Martin Kientzle of Nellingsheim in two of those records. A third marriage in 1589 was between Martin Kientzle (who may or may not be the same man as in the other two marriages) and Maria Hartkorn, daughter of Hans Hartkorn of Wolfenhausen. It's from this marriage that our line descends...and as we follow on down we'll try to make clear which Martin is which.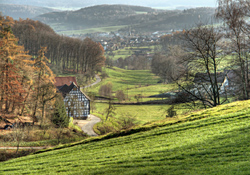 Martin Kientzle and Maria Hartkorn had eight children including a son, Martin, born in 1603. Martin II was married three times and during his final marriage, to a widow called Catharina, had a son, not surprisingly called Martin, born in August 1648.
Martin III married Catharina Krimmel in 1690. They had at least two sons called Hans Martin who didn't survive to adulthood, but a third son born in 1706, Johann Jacob, not only survived but carried the line into a new region, traveling almost 100 kilometers (about 65 miles) to the town of Reichelsheim in Hesse-Darmstadt.
We don't know what proimpted the journey but it was likely motivated by politics or economics in the region. At this point we leave Württemberg behind with a fond farewell.
In 1729 Johann Jacob Kientzle, listed as a butcher in documents of the time, married Anna Elisabetha Vetter, daughter of Peter Vetter and Susanna Maria Ditmann or Diethmann. Susanna Maria's parents were Hans Conrad Diethmann and Anna Margaretha Schimpf. Jacob and Susanna Maria had six children, the oldest of whom was Johann Wendel, born in 1731.
Around this time the surname begins transform into Künzel, perhaps as the result of Johann Wendel's relocation to the much larger city of Darmstadt, about 25 miles from Reichelsheim. He married Anna Dorothea Preißen, daughter of Johann Michael Prießen and Maria Barbara, in 1759.
Johann Wendel and Anna Dorothea had four children. A daughter, Catharina Elisabetha, was born in 1764. Her 1782 marriage to a butcher called Heinrich Philipp Dressel resulted in the end of our Künzel line but also in the auspicious connection to our Dressel line.