Gohr from Nippoglense, Kreis Stolp and Kramp from Klein Massowitz, Kreis Bütow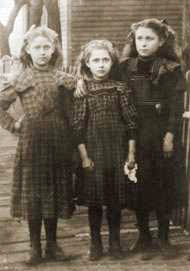 Wilhelm Robert Otto Gohr was born in February 13, 1857 and baptized on February 20th in the town of Nippoglense, Kreis Stolp, Pommern (Pomerania), a town claimed by Poland since 1945 and known as Niepogldzie. His father was a farm owner, Wilhelm Heinrich Gohr, and his mother was Emilie Louise Lübeck. Wilhelm was the youngest of eight children.
When Wilhelm was twenty-four years old he emigrated to the USA in March 1881 on the S.S. Leipzig sailing into Baltimore. On the same ship was his future brother-in-law, Carl Hasse. Wilhelm and Carl were headed to Chicago where Wilhelm's cousin Albert Gohr had already settled.
Laurette Albertine Henriette Kramp was born on June 7, 1856 in Klein Massowitz, Kreis Bütow, Pommern (now Maslowice in Poland), and was baptized on June 15, 1856 in Groß Tuchen (now Tuchomie, Poland). Her parents were Friederich Kramp and Emilie Trabant. The surname suggests that it may have been a place name at one time, possibly Krampe, Kreis Belgard (now known as Krępa).
Laura sailed to the USA on the S.S. Köln in August 1881, her destination listed as Chicago. She was accompanied by her older sister Augusta Hasse (born Auguste Caroline Kramp on August 21, 1854 in Klein Massowitz), plus Augusta's two young children Laura and Emil Hasse. Augusta and Carl Hasse were to have two more children in Chicago, Emma and Ewald.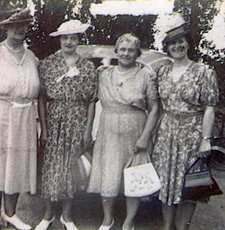 Five days later Laura's arrival in Chicago she and Wilhelm Gohr were married at First Lutheran of the Trinity Church on 31st Street. Both Albert Gohr and Augusta Hasse were witnesses to the marriage.
Wilhelm (later William) was a laborer. The Gohrs lived on Wood Street next to Albert Gohr, and William became a naturalized citizen in 1892. William and Laura raised six daughters and one son: Anna and Minnie (twins), Caroline, Hertha, Margaret, Ella, and Rudolph. Margaret was later known as Alma. Hertha changed her name to Bertha.
Laura Gohr died in 1893 of puerpural fever. A baby daughter, Elsa, had died five days earlier. Laura, another infant William, and Elsa were buried at Concordia Cemetery with the Hasse family. Wilhelm Gohr died in Chicago in 1905 and was buried at Bethania Cemetery with his daughter Anna Glawe and her family.
Most Gohr offspring remained in the Chicago area. Neither Minnie nor Rudolph Gohr ever married. Anna Gohr married John Glawe and had two sons and a daughter. Caroline (Carrie) married Edward Collins and had three sons. Hertha changed her name to Bertha and married George Bruns, with whom she had four children. Ella Gohr married William Schultz and had three sons. Margaret, known to the family as Alma, married Frank Meyers and had four children.
Many thanks to Cherlyn Bruns, whose expert research on the Gohr, Kramp, and Bruns families has been invaluable, and to Uwe Kerntopf, a researcher contributing to the Evangelische Kirche Groß Tuchen indexing project, for providing birth and baptism information for Laura and Augusta Kramp as well as the names of their parents.