Bruns from Oldenburg, Germany and Cincinnati, Ohio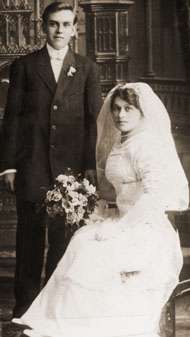 Our earliest known ancestors include two Bruns families from the area around Langförden parish in Oldenburg. We don't yet know whether the two families are related. On the paternal side is Fridericus Andreas Bruns and his wife Anna Catherina Oldhüs, who were married in 1768 in Hohenbögen, Visbek parish; their second son Johann Bernd Bruns was born in 1776.
We don't know much about the life of our direct ancestor Johann Bernd, but we do know that he married Anna Maria Bruns (born 1773 and who may have been a cousin), daughter of Johann Bruns and Maria Gertrud Albers.
Johann Bernd and his wife Anna Maria had at least four children, one of whom was Heinrich Joseph Bruns, born on May 27, 1814 in Deindrup and baptised in the Catholic parish the next day.
In 1844 Joseph (as he preferred to be known) emigrated to the USA with his wife Mary Elisabeth Grewe, known here as Elisabeth. According to their ship manifest they came from 'Knetsen', probably the Oldenburg town of Großenkneten; Joseph was a farmer. Their destination was Cincinnati, Ohio where a large German Catholic community already thrived.
In Cincinnati Joseph was a dairy man and a teamster; he and Elizabeth had ten children. Joseph died 1891 and Elizabeth in 1905; both are buried in the Bruns plot at St. Joseph's Cemetery in Cincinnati.
One of their sons, Bernard Augustus, a commercial gardener, married Elizabeth Robers, daughter of John and Theresia Robers, in 1882. George was their third child of four, and the family, including Elizabeth's sister Katherine Robers, who lived with them, relocated to Chicago, Illinois around 1900.
When Elizabeth died in 1926, Bernard married his sister-in-law Katherine Robers. Bernard lived till age 88, old enough to pose for a four-generations photo around 1938: George, Bernard Sr., baby Gene, Bernard Jr. Click the photo for an enlargement. Second wife Katherine died in 1935.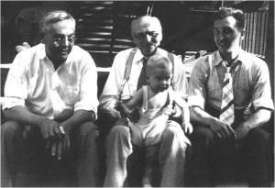 In 1911 George married Bertha (originally Hertha) Alvina Louise Gohr, daughter of William (Wilhelm) Gohr and Laura Kramp Gohr of Chicago. George and Bertha Bruns had four children: Bernard, George Junior, Lorraine, and Lolus. The Bruns clan kept in close touch with their Bruns and Gohr relatives in the Chicago area.
George Senior died in October 1945 while on a business trip to Boston. Bertha lived with various members of her family until her own death in 1974.
Thanks to Cherlyn Bruns and her daughter Sheila for their contributions to our Bruns research.