December 18, 2013: Gone but not forgotten

I've known about this record for several years at least, but I've had too much else going on to find the time to order the microfilm and sit down with it. The death of a Laurent Laurent was indexed in Familysearch.org's voluminous database of records. The specific collection, called "Germany Deaths and Burials, 1582-1958," is incomplete but did yield a hit for me when I attempted to search for any information on my 5x great-grandfather, Lorenz Dominique Laurent.
The actual transcribed results were for a Laurent Laurent, whose death occurred in Kusel, Bayern, Germany in 1812. Knowing that Laurent is the French form of Lorenz, I thought there was a pretty good chance that this could be my guy. I ordered the film at my local family history library. If the father and mother checked out, I might be able to move this line back a generation or two.
Germans had a reputation for being officious, but the French are really no different. They just take longer to say it. At least half of the full record tells us when, where, by whom, and how old the reporting party is. We only get to the details of Laurent Laurent's death in the bottom half of the document. But I wasn't disappointed.
Laurent, a court clerk and bailiff by profession, lived in "Cousel" (Kusel) and was born in Colmar in 1743 -- new information! Also new: the birthplace of his father, Jacques Laurent, in Bennwihr. That's over the border in France. So at last I can confirm French ancestry for all of us who descend from this line.
The birthplace of Lorenz' mother, Marguerithe, isn't recorded on the form, nor is his father's profession. But if Bennwihr is small enough, perhaps I can find useful results in films for that parish as well. And with a confirmed birth year for Lorenz of 1743, perhaps he'll be easy to spot in the record books.
Show comments/Hide comments
November 22, 2013: Tire tracks

Now and again a little tidbit is thrown my way and my mysterious paternal grandfather, Alva Elwood MacLaughlan, becomes slightly less mysterious.
Polk's 1925 city directory for Oakland, Berkeley, and Alameda City provides the first resource showing that Alva and his family lived in Oakland, California for a time. It also clears up what I thought was a mistake in a 1925 article in the Oakland Tribune describing a cross-country auto trip that the family took that same year.
They were referred to as residents of Oakland during a period where I presumed they lived in Chicago, the city of Alva's birth and the location where he's usually seen in Chicago directories and census records. But for a short time I guess they really were Oaklanders. On his 1942 World War II registration Alva claimed to have been born in neighboring Berkeley. The region must've made quite an impression on him.
He was partners with an I.W. Anderson, a vulcanizer (tire repairman), which makes sense when considering an old family story that he sold tires at some point in his career. More likely he was the accounting side of the business, basing this on his usual career as bookkeeper for a variety of offices from the 1920s through the 1940s.
Alva and his wife Marie became real Californians in 1946, when they relocated to the Los Angeles area.
Show comments/Hide comments
October 2, 2013: It's about time

The Southern Business Directory and General Commercial Advertiser, Volume 1, was published in 1854. Looks like my great-great-grandfather G.W. Jatho took out an advertisement for his business.
Google Books often has nice surprises like this and is a surprisingly useful tool for the genealogist. Browse the entire directory here.
This advertisement tells me that G.W. had at least two shops on Meeting Street. I knew about a place at 121 Meeting Street, from which he was unceremoniously removed in 1858 due to losing a lawsuit against his landlord (the nature of the lawsuit remains nebulous). But I was surprised to see him earlier in this location between Pickney and Hayne Streets during a more prosperous time.
Show comments/Hide comments
September 8, 2013: Here a Dressel, there a Dressel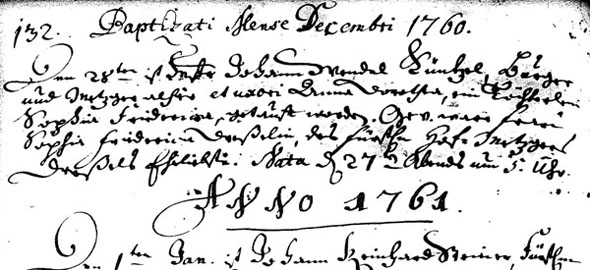 A long time ago when I was just starting out in genealogy, I was researching Dressels from Hesse-Darmstadt and not doing a very good job of it. There are lots of Dressels, but I didn't quite grasp the fact that you can't just assume things about them, you have to prove who's related to whom.
Searching for a father for my 4x great-grandfather Heinrich Philipp Dressel was a case in point. I grabbed a random microfilm for the region and duly scrolled through the pages, and having found a fellow called Johann Philipp Dresssel and his wife Sophia Friderica Gengebach I assumed he must be my guy's father. Who else could it be? There weren't any other Dressels on that film.
Except it wasn't correct. I was in the wrong village. I learned to visually scour the films with more aplomb and realized to my horror that I had linked a fellow to our Dressels who had no actual connection to us, i.e., I couldn't prove that they'd ever had a son called Heinrich Philipp.
Eventually I found the right father, working backwards from Heinrich Philipp's death date and age, and the great genealogical crisis of 2007 was averted. I deleted Johann Phillip and his wife Sophia Friderica from our database and thought no more of them.
Until now. They're back. And I have to find out how they fit in to the family this time.
Sophia Friderica Dressel, wife of the "fürste Hof-metzger Dressel" or royal court butcher Dressel, appears in the record above as godmother to Sophia Friderica Künzel, who was the sister of yet-to-be-born Catharina Elisabetha Künzel. Catharina would one day be Heinrich Philipp Dressel's wife.
The royal court butcher was apparently Johann Philipp Dressel, whom Sophia Friderica Gengebach married in 1751. Their connection to the Künzel clan at this earlier point is not clear. But it's likely to get interesting if I can prove how this interconnection works.
Germans loved to invite folks who were connected to them in some significant way to be witnesses at a marriage or godparents at a baptism. It's one of the best lessons I ever learned in genealogy. And there's a reason here why Sophia Friderica shows up as a godmother to this child...and perhaps a more complete explanation why my Künzel ancestor married a Dressel one generation later!
Show comments/Hide comments
August 1, 2013: Silver threads and golden needles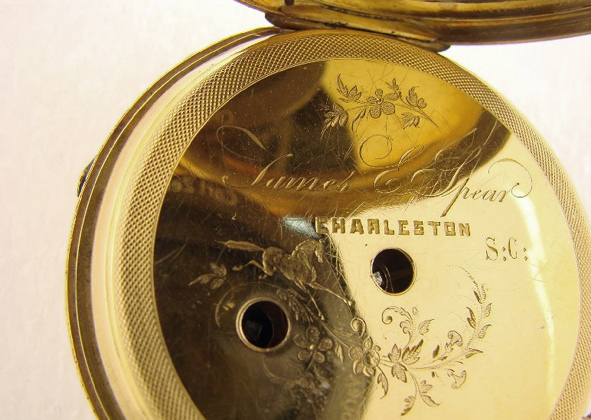 James E. Spear was a Charleston jeweler, silversmith, and watchmaker of some renown. Even today pieces made at his shop on King Street between 1845-1871 sell at auction for prices that are quite beyond most budgets.
This pocket watch is one example of the lovely engraving and finishing that was Spear's hallmark. It was priced between $4,000 and $7,000 at a recent sale.
I knew that my great-great-grandfather G.W. Jatho had worked for J.E. Spear for a time in the 1850s, but the Civil War, or the "late unpleasantness" as some still call it, forced G.W. and his family to a remote part of Charleston up on Cannon Street, far away from the guns and conflict of downtown. Until yesterday I didn't realize he went back to work for Spear in the late 1860s.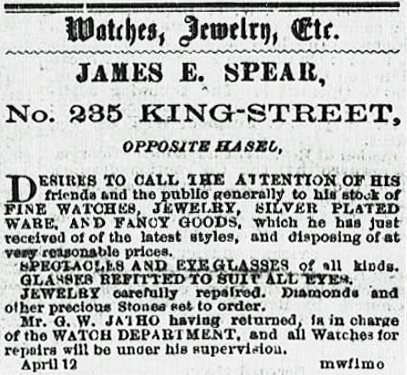 The Library of Congress has been digitizing newspapers for some time but new material must have been added recently. Many states are represented at this helpful database, Chronicling America.
Newspapers are viewable in the website's browser or can be downloaded as PDF copies.
I found this clipping from the May 10, 1869 issue of the Charleston Daily News, which indicates that G.W. had lately returned to the store to be in charge of the watch department. The question remains: returned from where? From G.W.'s own shop on Cannon Street?
We may never have an answer to that one.
Show comments/Hide comments
June 30, 2013: Stormy weather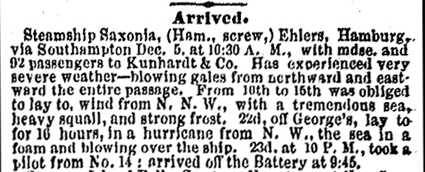 This ship arrival notice has nothing to do with my family but it's an excellent reminder of what difficulties our ancestors endured on their passage.
I was doing a look-up for someone whose ancestor arrived in New York on December 24, 1858 and found this description in the New York Times the next day. Sounds like a challenging crossing!
It reminds me that, for those folks in my own family whose New York arrival dates are known, it might be of value to check the Times for details like this. Any out-of-the-ordinary details of the journey are sure to add context to what might other be a dry recital of emigration statistics.
Sounds like the poor folks on the Saxonia weren't any too dry by the end of their crossing....
Show comments/Hide comments
May 5, 2013: A family secret no more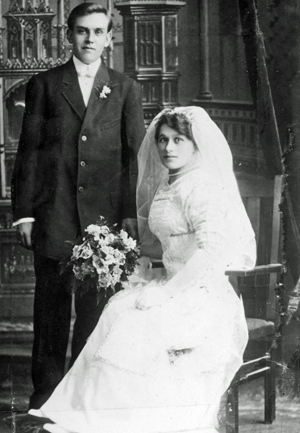 I knew that my grandmother looked nervous in this photo. Weddings can be nerve-wracking, particularly when all your sisters were married before you were.
But there's something else going on here. George Henry Bruns looks like he borrowed his suit. Hertha Alvina Louisa Gohr (later Bertha, a name she liked much better) looks a picture in her tulle and lace. Is the fabric a bit more strategically draped than not?
I didn't notice all those details at first. Then I looked at the date on their Chicago marriage license: August 3rd, 1911...almost 102 years ago. But my mother told me the marriage was on August 3, 1910.
In this case, it's complicated. In 1952 someone ordered a transcribed copy of the original church marriage record. Plain as day, it says that they were married in 1910.
But we have the document that contradicts the mis-transcribed record, and considering its official provenance, it's far more likely to be correct. The date was really August 3, 1911.
Three and a half months later George and Bertha's first son, Bernard George, was born. So now we understand the reason for the slight obfuscation of the marriage year. Nobody likely wanted any of their descendants to get the wrong impression.
And we don't. Genealogists have seen it all and we're used to noting brides and bridegrooms on the cusp of parenthood who show up at the church door. This wasn't the first time a marriage had a certain amount of hurry-up involved.
Show comments/Hide comments
April 7, 2013: Stats rights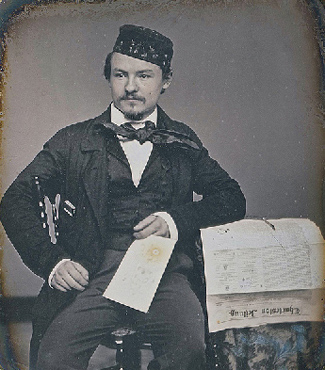 I do love my stats. No matter how fiercely or tepidly my research is going, I can always take a moment to review the keywords of folks who landed on my website, and it comforts me somehow.
But the anonymity of web searches keeps many, I'm sure, from actually reaching out via email when they've found something of interest. Franz Melchers, pictured at left, is one such subject of numerous web searches ("Franz Melchers Charleston").
So are Franz' siblings, four of whom settled in Charleston, South Carolina. This Daguerreotype , for instance, may be the earliest formal portrait of the publisher of Charleston's German-language newspaper Die Zeitung. So, Melchers folks, why not drop me a line if you have any questions? I'll never complain about too much email...or if I do I certainly know what to do about it.
Some search terms excel at verbosity: "angela comfort/campett married johan georg friedrick phillip dressel in beaufort sc in 1909"...yes, I have an Angela Comfort in my database and certainly have enough Dressels to please all manner of interested parties. Why not tell me why you were looking for her?
Then there's this: "The earliest Jathos Dransfeld"...yes, I have a nice collection of vintage Jathos from Dransfeld and surrounding towns. Got a question about any of them? I can probably answer it.
"Marriage certificate template": I'm tired of this one, actually. It always hooks my various marriage certificates that I have online. I'm not sure what good it would do the searcher. This is why you pay your local county authorities the big bucks: so they can provide the marriage certificate template for you. No need to reinvent the wheel.
"Maggie committed suicide" -- yes, alas, she did, and it's a sad tale all on its own. I don't think there's anyone but me and a scattering of contemporary folks who know she once existed.
"How much is a silver pitcher from 1850 Charleston worth" -- excellent question. I don't know, but I sure wish my great-great-grandfather, who created such delights, had left me a few to inherit. So far the only thing I've been handed down from my Charleston ancestors was a military button, and I had to pay for it myself to get it.
"Peter Hansen Petersen" -- why yes, I have one of those. Also have a few "Hans Peter Petersen" fellows too, if you'd like a little variety.
"Where is Bensheim Reichenbach Starkenburg Hesse-Darmstadt in Germany?" I don't know right off the top of my head, but I'll bet Google Maps could help you find it more efficiently than I could.
"Succession of Norwood Jatho" -- uh, no, there was no succession because he wasn't a king, and before you start wondering, he didn't own any castles in Germany either.
"October 1 1844 on the ship Elise" -- This one leaves me hanging. Not even a clue what happened that night on the ship Elsie? A dance in third class, maybe? A stormy crossing? A passenger list? I'd be glad to help if I had just a little more information.
"Dr Robert Maclaughlan of Calgary" -- nope, don't have one of him in my collection, but I'll bet he came by his name naturally.
Show comments/Hide comments
February 14, 2013: Just another wedding...in 1576

Yes, it's a big deal. All on my own, without paying someone to do the research, I've finally broken back into the sixteenth century with a documentable, verifiable ancestor whos mine, all mine.
On 17 February 1576 two folks from the Groß Bieberau area of Hesse-Darmstadt were brought together by love or circumstance, or perhaps both.
Hans Schuchmann "d[er] Jung", the younger, married Anna Funck, daughter of Philip Funck. A passel of children were the result, including several sons called Hans Schuchmann. One of them survived and married around 1599 or so (research is ongoing). His son was Peter Schuchmann, who had thirteen children of his own, including one pair of twins and one of triplets.
It's fun having the name of an ancestor who was born about fifteen years earlier than Shakespeare.
Show comments/Hide comments