December 29, 2012: When it rains...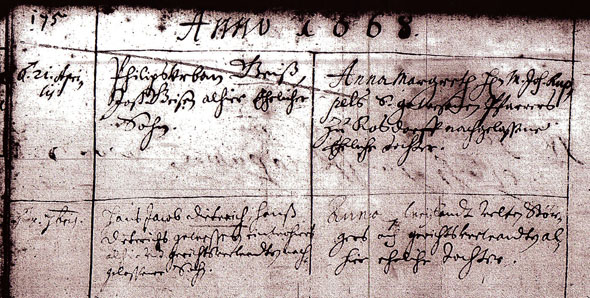 It pours. And I mean that in a good way.
With my local family history library closed for a year and a half for major renovations, I had to rely on L.A.'s Central Library to order LDS microfilm. Some libraries, I've found, have been "certified" to act as interlibrary loan portals in such cases (and it's worth checking to see if your local public library can be used in this fashion, should you ever need it). What a cornucopia of ancestors I found!
I spent the better part of two months delving into records from Groß Zimmern, a town that today has a population of only 14,000 people. In the 1600s it was much smaller. Imagine my surprise when I discovered that my family was related to about half the inhabitants, with a vast web of intermarriages and cousinships to decipher.
In times past I would have lamented the lack of an index of names or more verbose church record entries -- it would be nice, I think, to have the mother's name as well as the father's when a baby's baptism was recorded. Perhaps the clerks in Groß Zimmern were focusing on what they thought was essential information: father's, infant's, godparent's names, dates, that's it. But you can't quibble effectively with people who have been dead for 400 years. I had to get creative instead.
A researcher I once hired taught me via his own methodology how I should be looking for clues in unexpected places within the same collection. So I focused on all the names in the record books, particularly godparents. Sure enough, the wife of Velten Störger, who wasn't named in any of her own children's baptism records, is identified clearly when she sponsors a neighbor's child: "Elisabetha, Velten Störgers hausfrau."
Another record (above) shows Velten's daughter, Anna Störger, at her marriage to Hans Jacob Dietrich in 1668. Someone at GeneaNet had transcribed the bride's father's name as Wieland Velten Störger. Common mistake, I guess, though rather surprising from a native German speaker. To be charitable, it's true that the clerk's handwriting as well as the quality of the microfilm present some orthographic challenges.
The word is actually "Weiland" (spelled "Weÿland" here, to note the archaic letterform), which means "deceased". A look at deaths for the same region confirms this. Velten died three months before his daughter's marriage.
Velten was my 10th great-grandfather. If someone had told me ten years ago that someday I'd know his name, and that of his wives and offspring, I think I would have laughed. Ten years ago I didn't know anyone further back than my own grandfather. What a difference a day (or a decade) makes!
Show comments/Hide comments
November 9, 2012: Have you got any castles?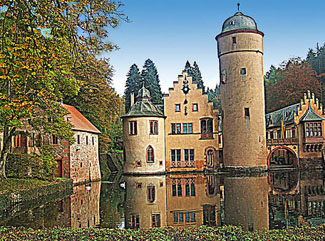 The answer is no.
There are no castles associated with our surname Jatho. Searching for "castle history Jatho" or "von Jatho" or "jatho castle" will get you absolutely nowhere. Don't think I didn't notice what search terms you were using.
In the 1600s our Jathos, at best, were teachers in the old country, and pretty poverty-stricken ones at that. They might have procured a small house associated with the church where they were schoolmasters. They might have had a bit of land to plow. But there was no title, no "von" in front of the name, and certainly no grand inheritance.
Everybody loves stories of wealth and nobility. But wealthy, noble people didn't emigrate to the new world looking for a better life.
Show comments/Hide comments
October 1, 2012: Third time's the charm
The 1910 federal census was the only one that used superscripts to indicate which marriage it was for any married individual, a helpful clue that until this week has led to nothing substantive for me.
Thomas was in his third marriage, Catherine in her second. I've found Thomas' first and third marital partners. What about the elusive second Mrs. Mikkelsen?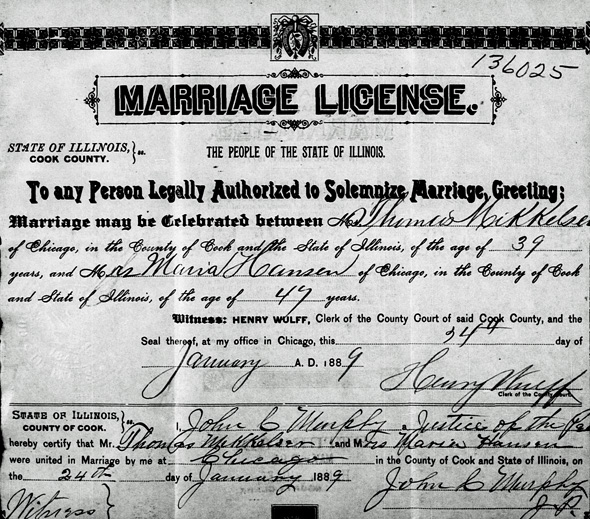 If I could find Thomas in the 1900 census it might have helped. But he was hiding that year. So I've been on the hunt for five or so years for his second wife. This week she finally popped up, though not in a previously-available database.
The LDS folks finally have a new beta version of their search site (http://beta.familysearch.org/) where, for fun, I tried out one of my more rare surnames. Imagine my surprise to see this.
Thomas married Mrs. Maria Hansen in Chicago in 1889. We don't know much about her, who her previous husband was, what her maiden name was, or where exactly she was born.
But Thomas is the right age (born in 1850) to be our Thomas, and a death certificate for Maria Mikkelsen in 1902 shows her to have been German-born like her husband and living at 36th Place in Chicago, the same street where Thomas and Catherine lived in 1910. So I think we have the right person.
One less mystery to solve!
Show comments/Hide comments
August 31, 2012: Hiding in plain sight
Solving one mystery often reveals another one lurking in the wings.
For years I've been looking for the marriage -- in Charleston, South Carolina, I assumed, since they lived there -- for G.W. Jatho and Elise Schuchmann. Must've been around 1852, since their first child, Philip, was born that year. But nothing ever turned up, not in either of the two German Lutheran churches in the city, nor in any other Charleston marriage index.

Turns out the trick was to look in Kentucky. Perfectly intuitive, right? The first part of the record shows Wilhelm Jatho, the bridegroom's information.
The second part shows the registry entry for the bride.

The records were part of the holdings for St. John's Evangelical Church in Louisville, Kentucky, and the marriage was recorded on July 19, 1853, using a familiar German handwriting style. So why Kentucky? Did the existence of their then-nine-month-old baby Philip make a Charleston wedding inconvenient? Or did they tell everyone in Charleston that they were already married when Philip came along? That's a reasonable hypothesis for holding the wedding in a town rather distant from Charleston.
Makes sense. But why Louisville?
Census information shows the presence of another Schuchmann family, headed by Ludwig or Louis Schuchmann, a tailor born in Hesse-Darmstadt around 1818. The bride's father was also called Louis Schuchmann, but the two aren't one in the same because they were born about 15 years apart. Cousins, perhaps? Both Louis Schuchmanns were born in Hesse-Darmstadt. If there was a family relationship, it might explain why the marriage took place in Louisville rather than some other random town.
So who are the Schuchmanns? Louis emigrated in 1842 via New Orleans and married an Adeline Pfleger or Pfliger, born in Pennsylvania. Their first daughter, Elisabeth, was born in Pennsylvania too. Another child, Louis or Leo, was born in New Orleans, the rest of the kids (Bertha, Friedrich, Henriette, and another Louis) in Kentucky.
Available records don't indicate how the two families might be related, alas, and the line seems to have daughtered-out over the years, the sons never marrying, the girls losing their distinctive German surname in marriage to others. Saddest of all, no one else seems to be researching the Schuchmann line of Louisville.
Any answer leads back to the Hesse-Darmstadt church records, especially around Bessüngen, where Elise Schuchmann was born in 1828. If we can find our new Louis Schuchmann at all, that'll have to be the place, and perhaps the connection will become clear. Or not....
Show comments/Hide comments
July 8, 2012: By any other name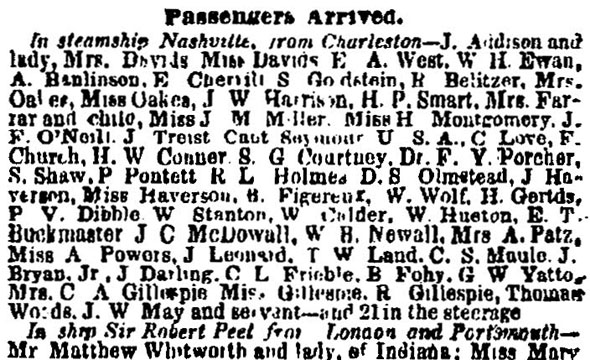 Was he a rose? Perhaps G.W. Jatho was nowhere near that sentimental. But he was, apparently, recorded on this ship manifest using the literal pronunciation of his Germanic surname. So searching for passengers named Jatho would get you nowhere. But spell it as it's pronounced -- G.W. Yatto -- and you hit gold.
This newspaper notice was typical for its time. The New York Times reported who was arriving at its ports and whence they'd come. Near the bottom right of this notice for September 4, 1855 is G.W. Yatto, arriving on the steamship Nashville from Charleston, South Carolina. Who else could it be but the founder of our Charleston Jathos?
What he was doing in New York City is unknown. He was a watchmaker and jeweler back home. Was he picking up supplies? Visiting a colleague or a relative? His wife, Elise Schuckmann Jatho, must have stayed home, probably not in any condition to travel by ship at the time (the couple's third child, George William, was born a few months later).
I suppose this means we could be related to some of the folks who stuck with this spelling of the name, too.
Show comments/Hide comments
June 23, 2012: Open my eyes

Or is it more accurate to say I should open my mind? Perhaps I'm being too hard on myself. It could be that this information wasn't in the Dansk Demografisk Database the last time I looked -- they're adding new material all the time. But finding this entry in the 1845 Danish census was an unexpected delight.
Hans was my great-great-great-grandfather. After his marriage to Ellen Jürgensen he remained in his birthplace Burkal, a little town over the border in Denmark, with his wife Ellen, who was born in nearby Jundewandt. I've visited the church records via Arkivalieronline, the Danish database, for this town many times and knew that they had had three living children there (a fourth died as an infant). But why no recorded births after 1827? Hans and Ellen were still in their twenties, presumably healthy and (if following the normal pattern) would likely have had one new child every couple of years. I simply couldn't figure it out: the record at Burkal were silent on any new additions to the family.
But the census record tells a different tale! And what an interesting one. They'd moved across the border to Medelby (where church records aren't available online) and now we see a plethora of children. Their eldest son, Peter Hansen, is in his own household by this time with his own family. But their second son, Lorenz, and everyone on down are listed, plus a lodger whose name appears only partially transcribed (a session with the microfilm of this census is clearly in order, just in case I can read the name). Now there's a total of eight kids.
But I can see an interesting pattern, one not immediately obvious to the casual observer. Oldest sons Peter Hansen and Lorenz are named for their paternal and maternal grandfathers, respectively. Three daughters are called Anna, all after their maternal grandmother.
But not a single girl is named for her paternal grandmother, Hans' mother Barbara Sørensdatter. Knowing the naming conventions of the Danes and Germans, that would seem like something more than an oversight. It suggests that there was something about Barbara that no one wanted to acknowledge.
Barbara had died three years before this census was recorded, and she died in a particularly sad way, wandering alone on a road near the parish of Hostrup, near Sjelborg, the village where she was born in 1774. A member of the parish found her body and brought her back to the church for burial. It seemed odd to me that she was living with neither of her two sons, Hans and Adam Petersen, before her death. And if you look at the 1834 census you'll find her living with a small group of women in an alms-house, essentially a poorhouse.
If she had two hardworking sons, why was she living there? Or was there something more to the story? Sometimes people with mental illnesses or dementia were placed in alms-houses if they could not be kept at home. Was that Barbara's fate?
Was it deliberate that the family named no daughters after her? Is it possible that they feared it would bring on the same fate to their children?
Whatever it means, it's likely that there's a deeper meaning to the absence of the name in her female descendants.
Show comments/Hide comments
May 6, 2012: At rest in Hebron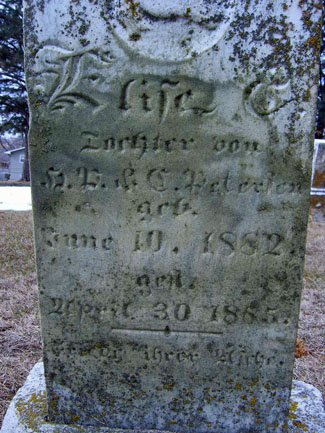 This afternoon in Hebron, Nebraska it's warmer than it was a few months ago when this picture was taken in a now-abandoned local cemetery. Winter no longer clings gently to the headstone of a little girl, called Elise Christina after her grandmother of the same name. Her grandmother was born in a town called Süd-Klixbull in the northwest corner of Schleswig-Holstein. Somewhere in Hebron, or nearby, the grandmother is buried too. We don't know where yet. But her namesake, who died at the age of two in 1885, has been found.
Thanks to the diligence of researchers at the local Thayer County Museum we have a photo of Elise Christina Petersen's resting place. She was the first-born daughter of Hans and Catharina Petersen. According to the 1885 Nebraska census, which carried mortality information for the region as well as standard census data, Elise died of a brain inflammation and was attended by a local doctor at the end of her life. That's all we know about her.
The Petersens had poor luck with daughters. Elise was the first they lost. A second, Elise Margaretha, lived a little more than a year and died in 1887, presumably buried nearby. A third, Margaretha Christina, made it to age fifteen before succumbing to suicide in 1903 in Wisconsin. Marie was born in 1899 in Chicago and was the only girl to survive to a comfortable old age.
Two young sons died in infancy too, Johann Christian (1890-1891) and Edward Andreas (1892-1893), both buried in Chicago, we think at Mt. Greenwood Cemetery. One of Catharina Petersen's granddaughters remembers Catharina wandering to the children's side of the cemetery where there were no headstones for the two boys, only memories.
Elise's headstone is so elaborate. Were there financial reversals that made it impossible to afford markers for the rest of the children? Perhaps so. Margaretha Christina and her father Hans were buried at Pilgrim's Rest in Brookfield, Wisconsin, and neither one has a marker either. But at least we know where they are. The more we know, the better we can remember them.
Show comments/Hide comments
April 14, 2012: Family secrets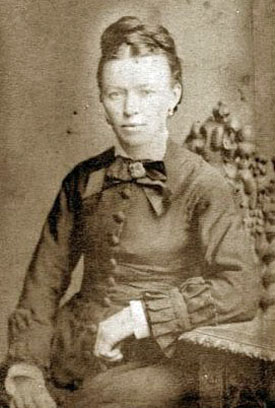 It's a little frustrating to get mail from someone who thinks he or she must be related because there's a Jensen or a Petersen in their family history, just like in mine, therefore we must be cousins. If only it were that easy! In cultures where patronyms were common, you can have a village full of Jensens and none of them might be related. They may just all have fathers who were called Jens.
But after the latest such note from a kind lady whose enthusiasm I had to reluctantly curb, I decided to go back and look at my own Jensen, my great-great-grandmother Margaretha Jensen Petersen, known in her family as Magretta. She's at left in a photo taken in Flensburg, Schleswig-Holstein sometime around 1870, before she, her husband Lorenz, and son Hans emigrated to the USA.
A useful site that I don't check out often enough is the Dansk Demografisk Database, a site that transcribes census information for Denmark and parts of Schleswig-Holstein, which was periodically under Danish or German control. It's a database in progress, which makes it hard to wait for if you're anxious to find out something but easy if you get distracted and forget to look at what's new. I must have let months go by, and it never occurred to me that more records from Klixbüll, Magretta's birthplace, might be uploaded and ready for my perusing pleasure. Note to self: try to keep focused a bit more, if at all possible.
Magretta's in the 1845 census now with her stepfather Christian Hansen, mother Catharina Petersen, and a mystery boy Paul Christian Lorenzen. There's a mix of patronyms and surnames going on due to the Danish king's proclamation that Danes and their subjects should pick and stick with a surname so people could be tracked in the census more easily. So much for clarity: Christian's father was Hans, but Catharina's father was Nis Petersen (so she has his "surname" but sometimes appears as Nissen too). Margaretha, whose father was actually Paul Christian Jensen, could have been called either Paulsen or Jensen.
Now the boy: who is this boy Paul Christian Lorenzen? Is Lorenzen likely to be his surname or was his father called Lorenz? Magretta is unmarried. The note after Paul says "deren Sohn", which can mean either the son of the older couple ("their son") or "her son." Magretta's mother is 57 here...could she have been a 50 year old mother? The possibility seems remote. More likely, the unmarried Magretta is the mother, and the fact that the boy is called Paul Christian like her own father suggests that the boy is truly hers.
Three years later Magretta did marry a man called Lorenz Petersen, my great-great-grandfather, but the idea that he's the Lorenz involved in Paul's birth is pretty farfetched. Lorenz was born in 1825. When Paul Christian was born in 1838 Lorenz was thirteen. Stranger things have happened but in this case I think there's a better explanation.
When Lorenz and Magretta married in 1848 they both had to present certificates of confirmation and vaccination as was the custom in the region. This I knew from archival research done a few years ago. But a second look at the documents (very hard to read due to their tenuously preserved calligraphy) reveals that something in her past was "canceled" and further that someone who normally signs off on divorces and the like had done so for Magretta in 1846. Such notes would be an essential part of any subsequent marriage record. Had she been married or betrothed before? This was news to me, but if she had, that could explain a son we knew nothing about before this.
So now what? It's expensive to hire researchers in the old country, but the cheaper option involves looking at microfilm of the 1850 and 1860 census for Klixbüll. If Paul Christian Lorenzen is still part of the family he should be there. I think that's what I'll do.
Odd how a stray query and re-focus your attention in a productive way.
Show comments/Hide comments
March 7, 2012: A Westphalian breakthrough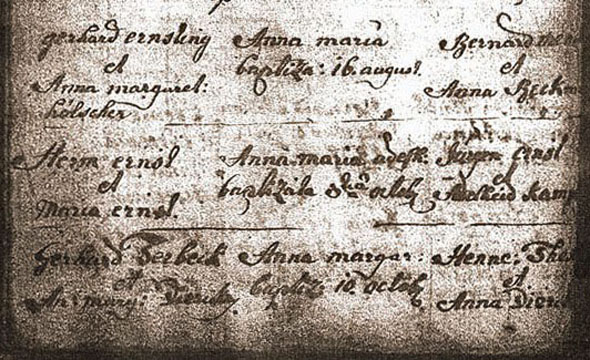 I once had a dream that I had Dutch ancestors. At least I think it was a dream. This isn't evidence for it but it's just about a twenty mile journey from the border between The Netherlands and Germany -- pretty close. It also opens up a side of the family that has languished for years for want of some little piece of evidence.
My Robers clan (that's not a misprint -- they were never Roberts) were in Cincinnati from the time of my great-great-grandfather's 1837 emigration, making him the earliest of my ancestors to come to the USA. But he was unhelpful in suggesting a true place of origin other than "Prussia" or "Germany" despite my attempts to comb through all the documents available in Hamilton County.
But his emigration record gave an accurate birth year, which pointed to the only Johann Gerhardus Robers born in 1805 in Germany, near the town where his manifest suggested he last lived. The records of the parish in Dreierwalde have been filmed too, though the microfilm turned out to be pretty dark. Photoshop was a great help in making the records intelligible.
Johann's mother, Anna Margaretha Terbeck, is revealed in the third record above, which even shows the heavy laid bond of the paper and the church book's binding. The handwriting's nice too, always a pleasure to see. Anna Margaretha was baptised in Dreierwalde in 1775, the middle child of five born to Gerhard Terbeck and Anna Margaretha Diercks -- hooray, two new surnames to add into the database!
No Robers appear in these records until 1800, when Anna Maria Terbeck married Joannus Bernardus Robers, so her husband must have come from a nearby parish. But Terbeck and Diercks people abound, showing up almost to the point the books were first kept in 1661. Alas, non-verbose records lack handy identifiers like the ages of the bride and groom, their parents' names, their occupations, so the story of their lives lacks color, you might say. They trot in, they marry, a baby is baptised, they trot out.
What we can say: we're probably related in some way to every Terbeck and Diercks in the church book, though in most cases earlier than 1775 we won't know exactly how. But it's nice to have them join us, nevertheless.
Show comments/Hide comments
January 31, 2012: Goodbye Andreas, hello Valentin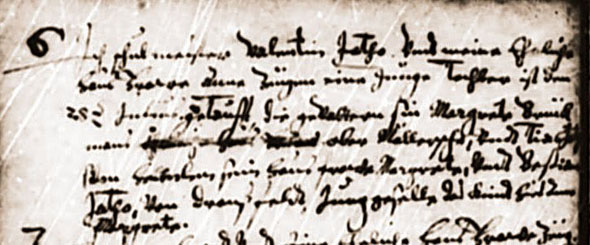 For a few years I've been working with a very capable researcher in Germany to review some of our most distant ancestors and we realized we have a problem. It has something to do with swineherds and teachers.
Simply put, our seventeenth-century folks were not particularly grand or wealthy, but they were literate, we now know, because our earliest documentable ancestor on the Jatho line, Christoph Jatho, was a teacher. But in retrospect the man we thought was his father, Andreas Jatho, probably was not, because Andreas was a herdsman of pigs.
Nothing wrong with pigs, they were a good steady source of income at the time, but the children of such a man were unlikely to have jumped rank and become teachers. We consulted three historians. Two say it would have been impossible, one said maybe...but that's not very comforting. Much more probable, they say, that a teacher would have had a teacher for a father. Hence the record above that we're considering, which details the baptism of a daughter of the teacher Valentin Jatho.
Records in seventeenth-century Hanover were not verbose. Marriage records were not always forthcoming about who the happy couple's parents were or where they were born. Some baptism records left out the name of the mother entirely. And some records, due to the vagaries of war and sloppy bookkeeping, are gone forever.
So for our Christoph Jatho, no matter where we look, his parents aren't mentioned. But he was a teacher and so was Valentin Jatho, who lived in the same general neighborhood. A good candidate? Very possibly. Perhaps some future records will come to light that could verify our suspicion.
And what about poor Andreas, is he to be cast adrift? Not necessarily. There are enough records where these various Jathos show up as godparents to each other's offspring, and the pattern of sponsorship can indicate a relationship too, just one that may not be entirely clear.
The further back in time you go, the less absolute is the historical record. It's something you learn to accept in genealogy as with any area of history. At some point you won't be able to prove what you'd most like to know. "I think so" becomes the best you can say.
The document above says: Ich Schulmeister Valentin Jatho undt meine eheliche Haus Frawe Anna zeugen eine junge Tochter, ist den 25. Julius getauft , die Gevatter sind Margrete Brückmans ober Möllersche undt Tias Jatho von Hemlen seine Haus Frawe Margrete, undt Bestian Jatho von Dransfeld Junggeselle, das Kindt hies Anna Margrete.
I, the schoolmaster Valentin Jatho along with my lawful wife Anna declare that our daughter was baptised on the 25th of July [1663]; godparents are Margrete Brückmans of Möllersche and [Mat]tias Jatho of Hemeln's wife Margrete, and the bachelor Bestian Jatho of Dransfeld; the child is called Anna Margrete.
Show comments/Hide comments